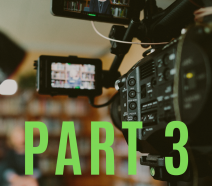 This final post in our 3-part blog series discusses the steps involved in creating videos for a variety of platforms.
Welcome back to fatBuzz's Video Marketing 101, where we discuss the basics of video marketing for business. In Part 2, we shared our guide to the different types of video content and how to choose one that suits your brand and objectives.
As with the type of video you choose to make, how a video is made will largely depend on your business objectives and the style of content you've chosen. The tools you'll need will depend on the desired quality, the budget available, and the platform you plan to release the content on. With video content, quality doesn't necessarily equate to views and engagement though, so don't get too worried if your budget doesn't cover a Hollywood production.
Companies that use video marketing grow revenue 49% faster than companies that don't, so if you haven't yet harnessed the power of video, then now's time to get started with your first campaign.
Here are our top things to consider when thinking about how to produce video content:
What's the Script?
Some people feel that having a precise script can be far too mechanical sounding, but as attention spans grow shorter, keeping videos concise is important. Using an outline at least will ensure that your target points are covered by your actors/voice-over and that your goals are met, even if you don't want a full script.
You could try just winging it, but this may involve a lot more takes and intensive editing/post-production to ensure you're covering every topic that's relevant and not ending up on unrelated tangents.
At fatBuzz, our marketing team often work on video projects to provide scripts and editing to ensure the message is concise or that video interviews go smoothly. Read about our content production.
Filming on the Day
There's a lot to consider when it comes to actually filming, but most important is choosing a good location. You need to make sure there won't be interruptions that ruin your flow, or background noise that detracts from your content.
Be sure to keep your background interesting but not too busy so that the viewer's focus isn't pulled to unimportant side attractions. This is something that a professional videographer can help to direct, often scouting a filming location in advance to plan out an efficient day's filming.
Aspect ratio is an important consideration when filming your video content for social media; portrait orientation works be best for Instagram stories, square for Facebook and landscape for YouTube. For example, on Facebook square videos get 30% more views than other formats, so ensuring the shot looks good when cropped to a certain aspect ratio will be vital if you plan to post on this platform.
On location shoots, fatBuzz's in-house videographer works with clients to ensure things are staged and directed appropriately to deliver a smooth filming experience and high-quality end result.
Lights, Camera, Action!
Good lighting can seriously improve the quality of your video and it doesn't have to cost a lot to get this right. The cheapest lighting trick is to find a room with good natural lighting from windows and to position yourself near those windows. You never want to have the windows behind you as you'll appear washed out, but sitting next to them or facing them can be very effective.
If you don't have a well-lit room, ring lights are a really cheap way to light your face better – a must for shooting video on a mobile phone and you'll often seem them used by YouTubers and other social content creators.
If all of this sounds a little complicated, you can look into hiring a videographer to help, as they should have all the camera, sound, and lighting equipment necessary to get the perfect shot.
The Editing Process
If your video will be hosted on social media, adding subtitles can help capture viewer attention and entice them to keep watching. 85% of viewers now watch video with sound off due to auto-play proving that having subtitles can be a crucial part of keeping a viewer engaged instead of scrolling on.
Adding a backing track at a low level can also add to the professional feel of a video. Nearly 84% of YouTube videos include music in some capacity, however, it's important to make sure the audio you use is royalty free so that your content doesn't end up blocked. YouTube has an extensive free audio library that you can use as a first port of call.
Publication
Once the finishing touches are made on the video, it's time to publish it.
With YouTube ranking as the second largest search engine in the world, it may be tempting to publish it there and link to it on all other platforms. However, most social platforms prioritise native content, so uploading the video to each platform can help improve your video's reach. Uploading to a Vimeo profile can also allow for easy embedding onto a webpage.
A good thumbnail helps get a potential viewer's attention, so don't ignore this feature when publishing your video.
Promotion
There's plenty of ways to share your marketing videos – include a link in your next email, share on your social channels, pin it where possible, post it in relevant communities such as Facebook and LinkedIn Groups. Just using the word "video" in an email subject line can boost open rates by 19% and click through rates by 65%.
Make sure that you also optimise the video's title, description, metadata, hashtags and other relevant information for search, so that it can easily be found in an organic manner as well.
Running an ad campaign around a video can also help to promote it to people who may not follow your social channels and who wouldn't discover it otherwise.
Re-purposing Your Content
You've spent a long of time on this video, so make sure it gets used! Here are some ways to re-purpose your video content:
Use the audio for podcast content: You can add further audio to make up for the lack of visuals, or if there are pieces that were cut from your video but you'd like to use elsewhere, a podcast can give that audio a second life.
Use the script as inspiration for a blog post: If you spent a lot of time scripting or outlining, that can also help you with developing blog content. You've done the research already; this just provides another format for the content.
Use quotes as social media content: If you're struggling to consistently come up with good content for your social media, post shorter clips or text-quotes from your video.
Further Reading:
https://blog.hubspot.com/marketing/make-a-marketing-video
https://www.shopify.co.uk/blog/how-to-make-videos
---
We hope you've enjoyed our Video Marketing 101 series (Read Part 1 and Part 2) and learned why and how you can use video content to maximise the potential of your brand's digital marketing activities.
If you need help creating impactful video content, then get in touch with us today.
You can find out more about our videography services here.
Watch the fatBuzz 2020 Showreel video below to see the kinds of content we can produce for your brand: