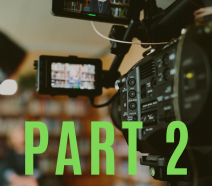 Part 2 of our blog series discusses the different types of video content that businesses can produce in order to showcase their products or services, engage with followers and effectively market their brand.
Welcome back to fatBuzz's Video Marketing 101, where we discuss the basics and benefits of video marketing for business. In Part 1, we shared our guide to why video content can be such a powerful tool for brands – the stats more than speak for themselves!
Once you've decided to start marketing your business with video content, the first step will be to plan the type of video that suits your brand and objectives. This will ultimately depend on the products or services on offer and the key messages you want to communicate. Focusing on one or a couple of these key video formats can then help you to plan a thorough and well-considered campaign.
It's important to know that few people nowadays expect Hollywood-level productions from brands – in recent times it's become much more common to see user-generated or low-budget footage used to great effect in videos. It's perfectly ok to capture content on your phone and use editing tools and resources to transform it into an engaging piece of content.
This approach has been adapted by even the biggest names, with major brands such as Co-Op, Nationwide and PG Tips using user-generated mobile phone footage in their TV ads. It adds a sense of authenticity and transparency, and we actively encourage it!
With this in mind, this 2nd instalment of Video Marketing 101 focuses on the different kinds of videos that can be produced, diving into the styles that work well for businesses and which kinds of business can benefit from each.
Here are just some suggestions for video content you can utilise to level up your marketing:
Informative Videos, Statements & Behind the Scenes
Using video content to inform people can be one of the most effective ways to communicate important announcements with your clients, customers and the general public. After all, viewers retain 95% of a message delivered through video, while only retaining 10% through text alone (See more statistics on Video Marketing).
In recent times, we've seen several brands turn to video as their means of delivering information about the state of their business, new developments and updates to their service structure, especially during the COVID-19 pandemic.
Want to share behind the scenes footage, recap an important event or milestone, or show transparency through a clear, concise announcement? Video is the way to go.
Who can benefit? – companies in any sector
Content Series, Sketches & Collaborations
Online video has become the primary source of entertainment for people across the world, with many now preferring it over television. For brands, this presents the opportunity to create entertaining content that also promotes your products or services.
For food brands, this could mean creating instructional videos for recipes that use your products, while cosmetics and fashion brands could partner with influencers to showcase your products at work.
An effective way to get people interested in your offering and see the lighter side of your brand is through instructional, stylish, funny or dramatic video content.
Who can benefit? – consumer brands, creative industries
Lectures, Video Essays & Guides
What if your business isn't about the consumer, but instead about garnering clients that come to you for expertise, insight and assistance in delivering their own services? This is where video shines yet again.
Lecture-style content is already popular thanks to platforms like TED, so following a similar style with your videos can help to provide important information about your area of expertise.
Think of this as giving away a free sample of your typical service, using it to show you know your stuff and hook the interest of potential new clients, educating while entertaining.
Who can benefit? – professional service firms, health and fitness coaching, business coaching
Explainers, Demos & Instructional Videos
Sometimes the best way of explaining how something works is through video. With either hands-on demo footage, animation or annotated showcase videos, you can summarise the key components, features or benefits of a product, or give viewers a taste of what your service entails.
This can ease new customers into following your brand or making a purchase, helping them understand exactly what you're selling and if it's right for them. Video works especially well for demonstrating or explaining a complex process, as you can use voiceover and text overlays to provide concise and engaging instruction to contextual video footage.
Who can benefit? – furniture or building manufacturers, product designers, AV companies
Reviews, Testimonials & Interviews
If you want to make customer service or positive opinions your key selling point, there's no better way than with a video testimonial or review.
For consumer product manufacturers, this could mean partnering with influencers to produce and deliver reviews and for a company providing a service, you could benefit from having a customer or client be willing to provide a testimonial on camera.
Word of mouth has always been a powerful way to spread buzz around a brand, but in an increasingly digital-focused age, sometimes your customer or client feedback needs to be put in front of people in order to have the most impact. Seeing and hearing real people share their thoughts on a brand can be an important attractor for new customers or clients.
Who can benefit? – all sectors
Ads & Promotional Content
When you think of 'Video Marketing' you probably think of it in its most literal terms; using video to market and advertise the thing that you're selling. While creating valuable content is hugely beneficial, sometimes you need this direct approach in order to drive sales.
Utilising video, you can take your promotion of particular products, offers or competitions to the next level. You could create a standalone video ad, a series of videos or include a video as one of the creative options in a larger campaign – the choice depends on your budget and the extent of the campaign.
Combining a short, imaginative and well-polished video with well written copy can lead to a highly impactful ad. The key is to play to the strengths of your brand and consider the expectations of your audience.
Who can benefit? – consumer brands, gyms and wellness centres, hospitality and restaurants
In Summary
With video content, the options are almost endless for what you can produce. If you're planning a video-driven campaign, you should consider:
Informing your audience and showing your business behind the scenes
Create content and collaborations with influencers that entertain viewers
Educating, giving advice and opening up topics of discussion
Demonstrating a product, service or process related to your business
Providing social proof for your brand through reviews and testimonials
Directly advertising and promoting your brand
We hope that you've been able to find some insight from this guide and are now thinking about creative ways that you could be using video to effectively promote your brand. As marketers we often take video content for granted, so it's been refreshing to take this dive into the core methods, benefits and uses of video marketing! And remember, capturing footage on a mobile phone is a great way to build authenticity whilst we have limited resources.
Read Part 3 in our Video Marketing 101 series, where we give some of our advice on how to go about creating, posting and sharing your video content.
---
If you need help creating impactful video content, then get in touch with us today.
You can find out more about our videography services here.
Watch the fatBuzz 2020 Showreel video below to see the kinds of content we can produce for your brand: