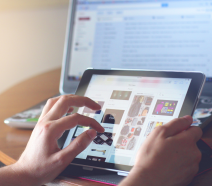 February provided plenty to talk about in the world of marketing, advertising and web design! Read our posts on Superbowl ads, World Nutella Day, Valentine's Day marketing tips and the Magento 1 CMS to see what we've been writing about this month.
There was also some noteworthy news from several big brands; from unappetising food campaigns to social media updates and the end of a long-standing partnership. It's been a busy month for the marketing industry!
Here's a roundup of some of our favourite stories to emerge in February:
Cadbury and the National Trust End Deal for Annual Easter Egg Hunt
Cadbury has made it into our industry news round up for the second time this year, after it emerged that the chocolate brand is mutually ending it's £7m annual partnership with the National Trust.
For the past 13 years, families have taken part in Easter Egg hunts which have encouraged them to explore National Trust properties throughout the UK. However, the charity is now looking to increase their emphasis on nature and the outdoors and wants to make chocolate less of a focus.
It's not all doom and gloom for chocolate fans though, as this year's Easter Egg hunts will still go ahead. However, Cadbury has agreed that 'the time is right for both sides to move on' meaning that this year's activities will be the last.
Facebook Launches New Pinterest-like App
In the world of social media, it looks like Pinterest is facing competition in the form of Facebook's new app 'Hobbi'.
Aimed at hobbyists, the app which is the 4th experiment from Facebook's NPE Team, is a photo and video app designed to allow users to document their personal projects and hobbies. However, unlike Pinterest, there is no social networking component to the app beyond being able to create video highlight reels that users can share externally with their friends if they want to.
Although it's currently only available in Colombia, Belgium, Spain, Ukraine and the US, Hobbi's release did lead to Pinterest shares briefly falling more than 4% in after hours trading. It will be interesting to compare how these two apps are performing in the coming months.
Burger King Tries Something Different with the "Moldy Whopper" Ad
Burger King has polarised opinions this month with the release of its conversation-sparking advert: 'The Moldy Whopper'.
As the name suggests, the advert, which has accumulated over 1.7 million YouTube hits since it's release, shows a time-lapse of a Whopper burger becoming mouldy over 34 days. With the accompanying tweet 'the beauty of real food is that it gets ugly', Burger King wanted to show that they've removed all artificial preservatives, colours and flavours from their burgers.
It's certainly a far cry from the mouth-watering food advertising we're used to seeing as consumers and unsurprisingly the ad didn't score too highly in terms of driving desire. However, by eliciting such a strong reaction, Burger King have succeeded in both pushing a clear marketing message while also ensuring that their content is incredibly shareable.
While it may not be driving desire from customers, the YouTube video's impressive Like/Dislike ratio shows that people are certainly happy with Burger King's message, even if the burger itself is a bit off-putting…
Instagram Announces New Follower Lists
On the 6th February, Instagram announced that they had launched an update that will help users to keep their feeds clean and relevant.
Thanks to the introduction of 'following categories' users will now be able to see a list of the accounts that appear most in their feed as well as which ones they interact with the least. That way users can easily determine and unfollow the accounts who are making content that no longer interests them.
From a business point of view, it's too early to tell what kind of effect this may have on your marketing efforts. On the one hand, if users begin purging their following lists then your brand could be in trouble if your content isn't engaging enough.
However, on a more positive note, if users refine their following list then this could lead to more engagement as they will have more exposure to the brands they really care about. Regardless, there has never been a better time to focus your marketing efforts on building and retaining a strong community of followers on Instagram.
---
That's our recap of what's been going on in marketing this month! If you're feeling inspired and looking to create a buzz about your brand or business, then get in touch with fatBuzz to find out how we could help you share your message.