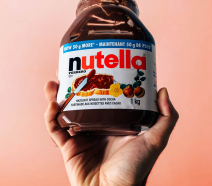 On World Nutella Day, we look at how fans of the product sparked a worldwide day of celebration, plus what other companies can learn from this example of influencer marketing.
It all started with a fan.
On this day in 2007, blogger and Nutella superfan, Sara Rosso, decided to use her passion for the popular hazelnut spread to connect other Nutella lovers across the globe through a day of celebration for the product.
Recently, World Nutella Day has been a key marketing tool for the Italian confection, with annual campaigns backing up the word-of-mouth buzz created around the product by its fans.
However, it wasn't always this way.
The Brand
In 1946, Pietro Ferrero, an Italian pastry maker, created a chocolate paste made from hazelnuts, cocoa powder and sugar to compensate for the relative shortage of chocolate in Italy post-Second World War. This sweet paste, known as Giandula, marked the beginning of Ferrero as a company, which has since become the second-largest confectionary manufacturer in the world. Over the years, the spreadable version of the recipe has been improved, repackaged and remarketed to the rest of Europe, then the world, as the now-iconic Nutella.
The product's prominence has become so widespread (pun intended) that it is featured in countless restaurants, hotel continental breakfasts, crepe and waffle stands, supermarkets and homes all over the globe. There are around 10.2 million posts using #nutella on Instagram, several Nutella-themed cafes across the world and even a branded villa that opened recently to provide a die-hard fan experience, called the Hotella Nutella (no, seriously).
The Potential of Popularity
It's this fan appreciation that sparked the creation of World Nutella Day in 2007 by Sara Rosso, which is all about encouraging lovers of the spread to show their Nutella love with recipes, photos, videos and more. However, in 2013, Ferrero sent a cease and desist letter to Rosso demanding that she stop using the Nutella logo, likeness and name to promote the event.
This was quick to be dropped though, with Ferrero claiming there had been an internal misunderstanding. It's possible that while initially hesitant to see their brand's name used without their consent, the company realised the potential of their fans' love and the exposure resulting from the event. They have now fully embraced and capitalised on the movement.
In 2015, Rosso transferred the World Nutella Day website and social media accounts to Ferrero and is now officially recognised as the founder of the day. The company celebrates the event every year by encouraging Nutella fans to share recipes, get baking and cooking and embrace their passion for the hazelnut spread.
With this added marketing muscle, the event now has even more potential to promote and celebrate the brand with its global community of fans, bakers, chefs and chocoholics.
Embracing Fan Love
The first important lesson to take away from the story of World Nutella Day is that the influence of brand advocates should never be underestimated. An annual, globally recognised day of celebration for something as simple as a hazelnut chocolate spread is the perfect example of word-of-mouth and influencer marketing.
The sort of viral success seen by World Nutella Day doesn't come around for every product, but brand loyalty is always something worth capitalising on. Companies should actively work to celebrate and acknowledge the feedback of their consumers, especially if they're frequent users that show their praise online, either individually or as part of a community.
When marketing food and drink products, brands should account for the creativity of their fans in finding new ways to eat, cook and bake with the product. Part of what makes World Nutella Day work is that the spread can be used in many different applications and lends itself to the creation of recipes that can be shared and discussed online.
Here are some other key points to take away:
Fan celebrations are good publicity for a brand and shouldn't be shut down (as was almost the case with World Nutella Day!)
Although some opportunities may come unexpectedly, it doesn't mean you can't create your own. How can you encourage your fans to celebrate your product or service and use them in interesting ways?
Find ways to bring your audience together. Sustaining a community is important for fostering relationships with lifelong customers and promoting brand loyalty.
User-generated content is gold. Social media can allow you to see what your customers are saying and how they're interacting with your brand. Fans should be encouraged to create content around your brand.
Closing Thoughts
World Nutella Day is a good example of successful influencer and word-of-mouth marketing. Sara Rosso's movement has brought millions of people together behind one common passion for Ferrero's product.
By wisely embracing the community behind Nutella and encouraging the creativity and expression of its fanbase, Ferrero have set a good example for how to sustain and grow a global following. This shows why it's so important to spread the love people have for a brand.
---
Does your company embrace the feedback and loyalty of your community of customers?
If you're looking to create a buzz around your brand, get in touch with us to arrange a coffee and a chat.