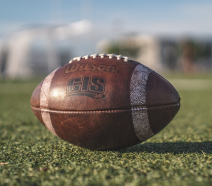 Started in 1967, the Super Bowl is the annual American football championship game between the two conferences of the NFL (the NFC and AFC), where the best team from each competes for the winning title.
However, in the 53 years since its inception, the "big game", as its often referred to, has become about so much more, from extravagant half-time shows with some of the world's biggest music stars to being one of the highest days of food consumption in the US.
Practically an American national holiday, the Super Bowl is one of the most highly anticipated and watched events in the world sporting calendar, with around 100 million people tuning in to the television broadcast every year. In 2015, the big game even became the most watched event in television history, drawing in 114.4 million viewers for the Sunday showdown.
This unrivalled viewership represents an incredible opportunity for marketers. Big game commercials and ad campaigns have become synonymous with the event, with many brands running their biggest campaigns of the year. These ads are often as talked about as the game itself, being shared and discussed across social media and news outlets for days afterwards.
With this level of exposure and excitement, it's hardly surprising that a 30 second commercial slot comes with a near $5 million price tag!
While there are few brands that will be able to invest that much in advertising, there are still some key lessons that marketers of all levels should take away from the legacy of Super Bowl ads.
Iconic Commercials
To be truly successful, advertisements have to create a lasting impression. and there have certainly been a lot of memorable Super Bowl commercials throughout the years.
Apple's '1984', directed by Ridley Scott, is generally considered to be the ad that broke the rules and encouraged others to be more creative. With the tagline "Why 1984 won't be like 1984", Apple played on George Orwell's eponymous novel by comparing their rival IBM to Big Brother and assuring viewers that their new technology would be used for freedom, not control.
Other memorable adverts include Volkswagen's 'The Force' which featured a child dressed up as Darth Vader attempting to use his powers on everything from the dog to the new car sitting in the driveway.
Doritos have also run memorable Super Bowl campaigns, like their 'Live the Flavor' advert, which was the first consumer-made big game commercial.
There's no denying that the Super Bowl guarantees a lot of exposure, and in 2019 overall ad effectiveness was 5% higher during the big game than ad performance during the rest of the year. While the marketing campaigns we mentioned above are of course working on million-dollar budgets, this only guarantees them the air-time. What makes them leave a lasting impression is the foundation of creativity and boldness behind them.
Good Ideas are Worth Millions
It's always possible to increase brand awareness without having to spend millions, even working off the back of the Super Bowl.
For example, one of the greatest recent acts of big game marketing came during the 34-minute power shortage in 2013's big game, when Oreo released a tweet with the message: "You can still dunk in the dark".
The message immediately went viral, gaining nearly 15,000 retweets and 20,000 likes on Twitter. This worked so well because it showed the brand's awareness of the big game as a globally-watched event, but also through clever copywriting that played on Oreo's reputation as being a snack often enjoyed with a glass of milk for dunking. Tongue in cheek, and undoubtedly effective.
Social media platforms allow for instantaneous messages that offer quick engagement, which brands can easily take advantage of during the Super Bowl if they know their followers will be tuning in. For smaller companies looking to make their mark, this and other lessons learnt from big game campaigns can go a long way towards improving their engagement with the public and making a long-lasting impression.
---
These Super Bowl-inspired strategies can help to promote a brand, without spending a fortune:
Incorporate more video
Within the context of social media, video generates 1200% more shares than images and text combined. Like the world-famous Super Bowl commercials, a creative video provides the opportunity to make a real connection with customers and show off some creative flair.
Collaborate with influencers
With huge budgets, big game advertisers can easily hire celebrities to help them promote their brand. However, in advertising there has been a recent shift away from using high-profile stars in favour of smaller influencers with more of a niche following. With consumers citing credible recommendations as a reason to buy into a brand, businesses can really benefit from the relationship these influencers have built up with their followers.
Harness user-generated content
Doritos have already shown the power of user-generated content (UGC) with their 2007 'Live the Flavor' commercial. UGC is a great way to produce new content while also engaging with customers and determining what sort of things they're interested in.
---
Whether you're engaging with a big event on social media, utilising creative video ads, collaborating with famous faces or harnessing the power of your community, there is a lot to be learned from how some of the world's biggest brands capitalise on one of the world's biggest games.
No matter your budget, creativity, clever distribution and an effective strategy are key in making an impact with your content marketing and advertising.
At fatBuzz, we're all about helping brands stand out. Our team of marketers, designers, SEO specialists and web developers can help you deliver the campaigns and content you need to get people talking about your brand.
If you're looking to maximise your marketing efforts, get in touch with us to see how we can help you make a buzz.