Hanley Economic Building Society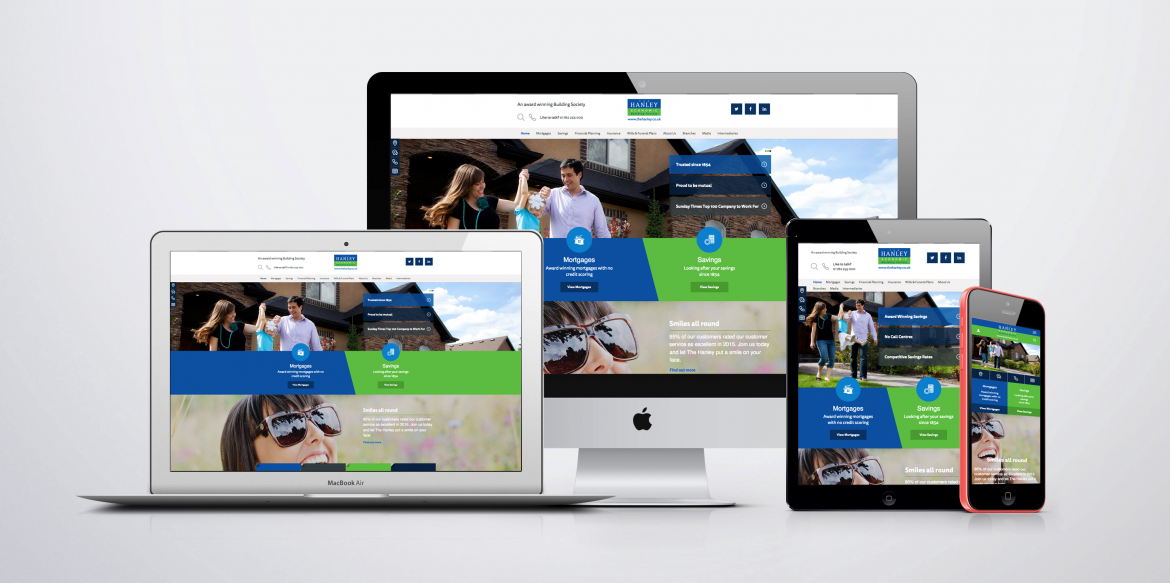 "The team at fatBuzz have surpassed our design specifications and worked closely with the team at all times. The feedback from staff and customers has been fantastic."
– David Lownds, Head of Operations, Hanley Building Society

Hanley Economic Building Society is a well-established building society based in Stoke, catering to the local community for over 160 years. With numerous branches in the Staffordshire area, the building society caters to a sizeable number of people, providing mortgages and lending, savings products and financial planning for its members.
Looking to modernise and become more accessible to members, Hanley Economic Building Society commissioned the help of fatBuzz to create a new and appealing website. The main objectives of the site were to humanise the building society and the services it offers, to simplify their offering, making it easier for users to find information and to generally modernise the site to keep in line with modern technology and functionality.
The result from fatBuzz was a fully mobile-responsive website, which provided much more accessible content, featuring a mix of news and media which were not present before. This was created in line with the existing brand guidelines to form a website which truly represented The Hanley's core values.
As a new sector for fatBuzz, there was a challenge in adapting to the needs of a business in the financial sector. In addition to creating an attractive and appealing website, the team also had to comply with financial regulations and ensure nothing financially important, such as statements on mortgage repayments or financial planning, was left out of the site. The Hanley website also had to contain various downloadable forms and terms for the building society's members, and as such, made for quite a large website with more than your average number of pages.
This was an obstacle in terms of modernising the website, to ensure so many pages were mobile responsive. The team were faced with a fairly unique task as the site had to contain huge tables of information which then had to be collapsible and easily adapted to various sizes of mobile screen. In terms of design, the finished product was far more appealing to users. With easy-to-navigate tabs and a search function to complement the responsive site, users have no trouble finding what they need.
The team also added functionality which focused on the customers: a live chat facility. This met the requirements in terms of appealing to customers and making their site simple to use, whilst offering our web designers the opportunity to include iframes in the pop up and chat facilities.
To humanise the building society and services on offer, fatBuzz introduced various videos on site containing members of The Hanley staff giving more information and advice on certain products or aspects of finance, such as how to apply for a mortgage. In addition, a news page was created, keeping savers and lenders up to date with the latest financial information or news about the building society itself. To further reinforce this, a CEO blog was also introduced, bringing a face and personality to senior management.
One of the largest and most-encompassing projects for fatBuzz to date, the team continue their relationship with Hanley Economic Building Society by providing ongoing content marketing and social media services to ensure the brand remains easily accessible for members. The key factor here is appearing interesting and informative to society members whilst remaining financially compliant.
If you would like to find out more about the services Hanley Economic Building Society provides, or the digital media and marketing services fatBuzz offer, please get in touch with Kyle by emailing kyle@fatbuzz.com or by giving us a call on 0141 427 0727.
View Website