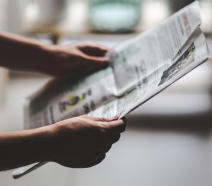 And just like that, the first quarter of the year is over. Yes, you read that right! With businesses now starting to reopen in the UK after lockdown, we're sure the marketing news will start to pick up again.
If you're just reopening and need a bit of advice on what to do for a post-lockdown marketing strategy, take a look at this blog we posted back in August (wow, we were optimistic, right?).
Otherwise, read on to find out the latest in marketing news over the course of April 2021.
Must-Know Industry News:
Clubhouse Monetisation:
With the news that Twitter is planning to release a featured called 'Super followers' who pay to receive exclusive content, it's no surprise that the new audio platform Clubhouse might follow suit.
Their monetisation structure seems a bit different from the 'exclusive content' model. There's no content that requires payment in order to be accessed, but instead you can choose to pay based on how valuable the content is to you. If you enjoy the audio from a creator, you can essentially tip them now via the Clubhouse app.
Marketing Takeaway: There are a lot of creators that ask for donations (via PayPal, CashApp, Venmo, etc) to help support their continued content on a variety of platforms, so integrating it into the platform itself makes sense. It makes it easier for a creator to track where their money is coming from and what content earns them the most income if that money is clearly associated with a specific platform.
Facebook Getting into Audio:
With the popularity of Clubhouse and Twitter investing in audio as well, it's no surprise that Facebook would be attempting to jump on this bandwagon. They'll be making audio-only versions of Rooms and also giving people a chance to tip creators in the same way as Clubhouse.
Creators can download their audio at the end of a 'live broadcast' to turn it into a podcast. Facebook's major strengths are their groups, which they are planning to trial opening audio-only content for as well.
Marketing Takeaway: If you use a Facebook group to build your brand community, using the audio feature could be a way to connect with your brand followers even more. Considering about 25% of Brits listen to podcasts and Facebook groups are used by over 1.8 billion people globally each month, it may be a worthwhile avenue if you're looking at live audio content.
Tools & Features We're Excited about:
Pinterest IP Tool:
Pinterest is giving users the right to claim their original content and control how it is used throughout the platform. Initially, there will be three ways to manage the current and future use of your content:
Mine only: Remove existing and future versions of the images from Pinterest, except Pins originally saved by me.
Website only: Remove existing and future versions of the images from Pinterest, except Pins that link to my claimed website(s). (This option will only be available if you have a claimed website.)
Block all: Remove all existing and future versions of these images from Pinterest.
Once your claim on the content is confirmed, Pinterest will then be able to scan for in other Pins, and take the action you've chosen.
Marketing Takeaway: We know you wouldn't do this anyway but if you *were* using images without getting the right usage permission, now might be the time to stop doing that. You might also want to contact us to get your own original graphics designed so you're not using anyone else's IP in the future.
Campaigns We've Loved
Cadbury and Age UK:
Second month in a row that we're talking about a Cadbury Campaign. They must be doing something right! This month's campaign is about their Partnership with Age UK where they 'donate' their packaging to the stories of elderly people.
For the duration of the campaign, Cadbury's packaging will have a snippet of a story from an elderly person, with the full story available online. The goal is to encourage people to reach out and talk to the elderly people around them, as many older people can go a whole week without speaking to anyone.
Marketing Takeaway: A little bit of goodwill can go a long way. Long-term partnerships with a charitable organisation can not only help a great cause, but also create some great publicity for a company. If there's a cause that really connects with your company ethos, find a meaningful way to get involved, whether through supporting staff to volunteer with them, a donation of products, or a financial contribution.
Google's Social Content:
This isn't a campaign, so much as a single Instagram post; however, we really liked its simplicity. It's so simple yet effective – take a look and you'll see what we mean. In a brief one-minute video, it captures the 'coming out of lockdown' feeling, all while highlighting their own products, how they have helped throughout the pandemic, and how they will continue to help once it's over.
Marketing Takeaway: Sometimes when we try to be clever, an ad or marketing message can become over-complicated. Keeping it simple is often the best plan.
---
That's our recap of what was happening in marketing last month!
If you've been finding it hard to keep up with all the platform changes and industry updates while trying to put out ads as good as these, then perhaps we can be of assistance! Get in touch today to find out how the fatBuzz Marketing Team can help with your campaign strategy.