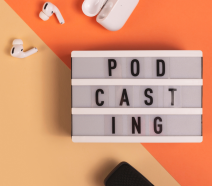 We're not saying *everyone* should have a podcast, but we'll lay out some of the reasons podcasts are an incredibly powerful tool and some brands that are using them really well.
Finding the right way to communicate with your audience is crucial to making your message heard. It's important to choose the best content platforms for your business goals, rather than try to be on every single one. We'll walk you through some of the reasons why podcasting might be right for you.
This is the first piece in a multi-part content series looking at podcasts.
How Audio Engages Differently:
Podcasts are an up-and-coming format that really seems to hold people's attention. According to Spotify, nearly 1 in 4 or over 15 million Brits listen to podcasts. That's a lot of people you could be reaching and convincing to engage with your long-form content.
Longer Engagement Times:
For example, in 2017, 42% of listeners listened all the way to the end of a podcast, and in 2020, over 50% of Gen Z and Millennial listeners were consuming content of 26 minutes or longer.
If you had a blog post that took 20 minutes to read, you'd likely have a much lower percentage of people reading all the way to the end. For a consumer who is multi-tasking or leading a busy life, the ability to consume this content while doing other tasks is so valuable.
The most common activity while listening to a podcast is actually driving – an activity that (if you're following the law) doesn't really enable consuming any other type of media. In the age of TikTok and 60-second attention spans, getting a consumer to stay with you for 30 minutes is powerful.
Advertising Opportunities:
Even if you're not ready to create your own podcast from scratch, it might be useful to consider advertising during them. WARC research shows that 27% of weekly podcast listeners agreed that they discover new brands through podcast advertising and over 50% feel that the marketing they hear via podcasts is relevant.
How to use Podcasts Effectively:
Honestly, there's not a one-size-fits-all to this – and that's a good thing! Podcasts can be adapted to different business needs. You can make your topic broad so that it appeals to a mass audience or it can be incredibly niche and still find a foothold of dedicated listeners.
Here are a few marketing goals that can be met via podcasting:
Building Brand Awareness:
Every platform your brand is on is another chance to be discovered. In addition to building awareness with your desired customers, it might help you build up a network, develop chances to guest speak on other podcasts, and generally get your brand name out there.
Having a medium that allows your company tone and voice to be heard (literally) by the listeners will increase their understanding of your brand values. It's an opportunity to humanise your brand and tell your story in a more conversational way.
Community Building:
If your podcast is a series and people are coming back every week (or fortnight, or month, depending on your frequency) to listen, eventually you can build a brand community around your podcasts.
The sound of a real voice can also help develop trust and seem more authentic than other content platforms. Opening up a way to submit questions and answering them on your podcast or giving shoutouts to loyal listeners can also help with building community.
Thought Leadership Positioning:
If you bring new ideas and commentary to your industry and start to find success with your podcast, you'll begin to be seen as a leader in your field. From this people may begin to ask for your opinion more often, translating into business opportunities. Being a known and trusted name in your field is always good for the bottom line.
Using Podcasts as a Brand:
Now you might be thinking "this all sounds great, but I don't see how a podcast can work for my product or service." That's fair enough – it can sound daunting at first but we're going to show you a few of the creative ways other brand have used podcasts to their advantage.
Blue Apron's 'Why we eat what we eat':
As a business that delivers fresh ingredients, ready to be prepared at home, creating a podcast about our food and eating habits was a way to carry their brand vales and message without making a direct sales pitch. It helps reinforce with customers their commitment to the culinary industry without constantly pushing their product. This educational take on podcasting is a great way to build brand awareness.
NHS 'Couch to 5K':
This podcast always surges in popularity at the start of a new year. It's a great example of defining a user need and meeting it through technology. The NHS realised that many people wanted to run, but beginners didn't know where to start. This podcast fixes that AND can be listened to while the activity takes place, guiding them through safely working up the stamina to complete a 5k.
Zendium Toothpaste:
A toothpaste brand, really? Yes. Their '2 minutes of Zen' Podcast gives bite-size health and wellness hacks that you can listen to in the same amount of time it takes to brush your teeth. This is a great example of finding an unused part of the day and creating content for it that meets their brand values.
---
Feeling inspired? Making a podcast could be a great move for your business, but it can also be a lot of work. fatBuzz can help you with creating and marketing a great podcast that is relevant to your brand. Get in touch to discuss your podcasting possibilities with our team.