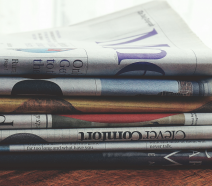 March again? Already? How did that happen? As always, we have the monthly marketing news round-up to help you stay on top of what's happening in the industry, so if you feel like the time between March 2020 and March 2021 has been an absolute blur, you can work through our recaps to get the gist.
This post will cover specifically the interesting tidbits from February 2021, including some Instagram algorithm updates, some new content platforms, and advertising opportunities, and a great logo upgrade.
Must-know Industry News:
Less TikTok, More Instagram
Sick of seeing the same content on every platform? Well, so is Instagram. When they duplicated TikTok with their Reels function, they didn't anticipate that users would also duplicate TikTok content on Instagram.
Now, Instagram has updated their algorithm to reprioritise any reels that have watermarks or logos from other apps to try and cut down on the amount of TikTok videos showing up.
Marketing Takeaway: If you don't have the time to create entirely separate TikTok and Reels content but don't want to get penalties, find a third-party app to edit your short-form video in, that way you have a version without a watermark. It's easy enough to bypass this algorithm issue if you want.
Tools & Features We're Excited About:
Twitter has Super Followers!
No, it's not the latest Marvel content being released on Disney Plus. It's the chance to pay for exclusive content from people who you follow on Twitter.
So, this section title might be a bit misleading – we're not necessarily *excited* about this new tool, we're cautiously sceptical about it. Given the success of platforms like Patreon, it's believable that people will pay for exclusive creator content, but the question is whether or not 220-character content is enticing enough.
Marketing Takeaway: We can see this being great for musicians who want to tease song snippets early, or maybe someone like Janey Godley whose comedy voice over content is primarily released on Twitter. Our prediction is that getting super followers will rely on rich media attached to tweets, not tweets themselves.
Join my Clubhouse?
A new addition to the social platform offerings, Clubhouse had been making quite a stir as its popularity grows. Sitting between podcasts and a radio talk show, it's a great addition to the digital space. The live and interactive format is definitely exciting but there's been a few drawbacks identified so far:
It's Invite-Only. While the exclusivity feels fun, it also limits reach. However, it's likely that this won't be invite only forever.
It's iPhone-Only. At the moment, it's not developed for Android and only iPhone users have access, again creating a limited reach.
There's some privacy concerns such as having to give Clubhouse access to *all* your contacts in order to invite one person and unencrypted recordings of conversations.
Marketing Takeaway: It's a cool platform and worth looking into if you're already creating podcast worthy content. It could be particularly useful for building brand communities or talking about thought leadership topics. However, beware of possible GDPR issues if you're using it in Europe. While there's no news on that yet it's worth keeping an eye on before you invest too much effort in getting an invite.
Spotify Adds Ads Mid-Podcast
As podcast streaming becomes more and more popular each year, of course hosting platforms need to find new ways to monetise it. Spotify has been investing heavily in ways to place ads in the middle of your podcasts and also give more insights to advertisers and podcasters alike.
Marketing Takeaway: If you have ad copy that lends itself to an audio-only format, this could be a great opportunity. A lot of Spotify ads can also be complemented with video as well but shouldn't rely on visual cues as many people listen while multitasking and not looking at the app at all.
Campaigns We've Loved:
Amazon Gets a New Icon (x2)
Amazon has updated their app icon…twice! Overall, the rebrand of the icon was a great idea. Previously it was just the company logo and a shopping cart – nothing that interesting, right? But then they updated it to look like the box that arrives when you order from Amazon, giving it a more recognisable look and reminding customers of that happy feeling when a package arrives. For most of us after a year spent mostly at home, the moment a package arrives is the highlight of the week.
However, some people felt that the blue tape at the top of the logo looked a bit like the famed moustache of a certain historical dictator. Rather than trying to defend the design choice and risk coming off as tone-deaf, Amazon changed the style of the tape and released a new version of the icon.
Marketing Takeaway: Firstly, understand what makes your customers tick. The change to make the Amazon app icon look like their boxes and connect that excitement of package arrival with opening the app was a smart choice. It was even smarter to take and quietly implement feedback; Amazon were able to fix the issue with little fanfare and moved on with business as usual.
---
That's our recap of what was happening in marketing last month!
If you've been finding it hard to keep up with all the platform changes while trying to put out ads as good as these, then perhaps we can be of assistance! Get in touch today to find out how the fatBuzz Marketing Team can help with your campaign strategy.