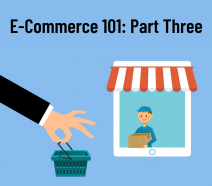 Having concrete targets can help push your e-commerce business to the next level. However, it can be hard to decide what your goals should be and how to achieve them. Even knowing what the industry standard is for your business can be hard to determine. For many businesses, the best way to start is by looking at metrics such as a conversion rate.
Setting Realistic Expectations
Data from Smart Insights gives an idea of conversion rates by industry, but features just 11 industry categories, so it may not cover every business. Regardless of your business niche, a key insight is that no industry goes above 4%, so that might help set some expectations. Google has also released a benchmarking feature in Analytics which can help you compare your business to others in the same industry.
These tools may help you gain an initial insight into how people commonly perform in your area so that you can set realistic goals. There will be a lot of different ways to reach your targets, but we'll run you through a few of the ways that good marketing can help your e-commerce business smash your goals.
If you want to improve your SEO Ranking…Try Optimised Copy
There's a lot that goes into SEO from a technical standpoint and you'll likely need some help from web developers in some aspects. But there's still plenty that's easy to do from a content perspective as well.
Product titles and descriptions will be a great place to optimise your copy. For example, use colour names that your customers are likely to use. Even if a manufacturer calls the colour 'damson' you're probably better off using a simple 'purple' to describe the product.
Using common language means you're more likely to be using terms that someone might actually search for.
If you want to meet a specific Sales Target…Try Upselling
With well-designed e-commerce websites and great copy, you can entice people to buy more from your website. We discussed in the first e-commerce blog how social proof can help convert people into customers and the tactics for upselling will be very similar.
Upselling means that when a customer is ready to convert, you want to convince them to buy even more products before they hit 'purchase'. This could take the form of a 'Frequently Bought Together' section on the product page where you show other items people tend to pair this one with. Alternatively, it could be a 'you may also like' section where you showcase similar products or ones that complement the one currently being looked at.
If you want to increase you customer retention…Try Email Automations
If you missed part two of our e-commerce series, now's the chance to go back and read it fully. The email automations listed in there can help you keep customers engaged while making it easy to manage.
According to Hubspot: "email generates $38 for every $1 spent, which is an astounding 3,800% ROI, making it one of the most effective options available." It's definitely worth setting up for a simple way to continue the relationship with your customers beyond their initial purchase.
If you want to build your customer base…Try Lead Generation Tactics
One of the most common lead generation tactics with e-commerce is to have an email newsletter. Reward those who register for the email with a one-time discount or a competition for new registrants. It's surprisingly effective and will help build your list of potential customers who have opted-in to communications.
Keep them on the email list with early access to sales or discounts that are exclusive to the email list!
A Little Effort Goes a Long Way
When you're trying to juggle all the needs of your e-commerce business, anything beyond the day-to-day management can fall on the back-burner. However, little tweaks and changes to your copy, design, or marketing strategy can have a big impact in achieving your goals.
If you're stuck for time, this is where fatBuzz can help. We work with e-commerce businesses large and small in a variety of sectors and can help with all your marketing needs.
Get in touch to see how we can take your e-commerce business to the next level.