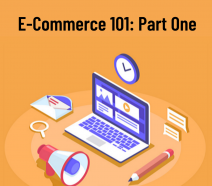 For an e-commerce business, nothing is more important than the look and experience of your digital storefront, as a customer's impression will initially be built from this and this alone.
According to Hosting Manual, nearly 80% of users who have had a poor website experience avoid the pages permanently and never return. Therefore, it's worth investing in some professional backup and advice when developing an e-commerce website.
While there's a lot to think about when developing your online retail experience, here are a few of the main areas our design and web development teams consider when working with our clients:
Usability:
The main goal for an e-commerce site is to convert potential customers into paying customers. As such, the design needs to be user-friendly, intuitive and focused. 
According to Eksposure, a pleasant design delivers 75% of website credibility and almost half of all users agree that website design is the most important aspect that builds the credibility of the business.
If we're revamping an existing site, we'd take a look at the user-experience (UX) flow when using your website, specifically finding pain points and areas where the UX can be optimised.  If we're building a site from scratch, we'll ensure good UX is integrated from the beginning – from easy-to-use site navigation menus to uncluttered page design.
Speed:
Part of the usability, though important enough to get its own section header, is speed. 25% of users would abandon a website that took more than 4 seconds to load, so this is important for keeping your bounce rate low and your customers happy.
Speed can be affected by many different things such as file sizes, coding, redirects, server response time and more. Slow websites have high bounce rates, and websites with high bounce rates tend to rank poorly on search engine results, so while many of these are web development issues, they're also part of technical Search Engine Optimisation (SEO).
For existing websites, an SEO audit will help identify any of these speed issues and create a path for fixing them to ensure customers always have a fast and positive e-commerce experience.
Trust:
Users want to know that they can trust the client's company before they commit to spending their money. As discussed before, a lot of this comes from having a sleek design that gives credibility to your website and helps it look legitimate, however there are other ways to build trust with the consumer as well.
Adding trust signals to the website will help customers believe in your product as much as you do. This could be including TrustPilot reviews or ratings on the site or integrating reviews onto product pages.
We can look at ways for developing social proof so that your products seem scarce or in high demand. You might want a live visual feed in the corner of the page letting people know what items have just been purchased, so consumers know how popular a product is.
Or you might want to let a customer know how many people have a product they're looking at in a basket already as this both creates a sense of urgency and again shows that an item is well-liked.
Security:
One of the easiest way to develop trust with the customer is website security. Getting SSL certificates and being an https:// domain will help people to know that you're a safe site. That little lock symbol in the browser's URL bar goes a long way to making customers feel more comfortable about your site.
Customers trust other people's opinions so having reviews and social proof together with a secure site helps customers feel better about purchasing from you.
Mobile Responsive:
Google now indexes websites on a mobile-first basis, meaning they look exclusively at the mobile version of your site when deciding your search ranking. So, from an SEO perspective, it's important to have a mobile responsive but it's also important from a consumer perspective.
In 2019, mobile comprised over 25% of all e-commerce, more than doubling since 2015. With such a steady upward trend in consumers using their phone for online purchasing, it's important that your site functions equally as well on mobile devices as desktop. User experience should be the same regardless of the device. 
Back-End Management:
While all the other aspects have been focused on the customer, it's also important to do something nice for yourself! An e-commerce management system will help streamline your inventory management, orders, and stock easily.
We love to use WooCommerce as it allows the most customisation so our web development team can create the perfect site for you. 
If you're unsure which to choose, we can help you navigate the right choice for your needs so that management of your e-commerce business is simple to keep on top of.
---
Need help revamping your e-commerce site or just starting out with a new business idea? fatBuzz can help from web design and development to SEO and Marketing services. Get in touch to see how we can take your e-commerce business to the next level.