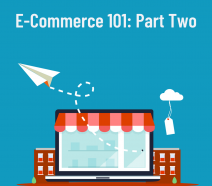 Starting an E-Commerce venture is a lot of work, especially if you only have a small team behind the business at first. Technology can support you a lot in these early days (and beyond) if you know what to look for.
This blog will take you through a few of the integrations and automations that will make your life easier and streamline some of the e-commerce work that needs to be done.
Integrations:
Choosing the right platforms to integrate with your site can help to create a seamless experience for your customers. We'll look at a few integrations you should be considering to design a better experience for your customers.
Payment Gateways:
Your customers will look for an experience that feels secure, comes from a name they trust and works smoothly so they are confident their payment went through.
In the UK, WorldPay is one of the most popular choices among merchants, and you'll find that many consumers are really familiar with PayPal. Figure out which provider creates the best balance for you in terms of cost, customisation, and customer preference, or see if you are able to support more than one payment method on your site.
A secure, trustworthy, and smooth user experience during the payment process can make or break an e-commerce site.
Social Media Shops:
Now that nearly every social app has the ability to integrate your shop, it's important to do this. When you post lifestyle graphics or people modelling your products, you can tag that exact product in the image, making it easier for customers to find. Customers can tap on the product in the image to find out more such as the price and easily access the landing page for that product on your website.
Anything that makes it easier for your customer to find the products they love on your website is an integration worth investing in.
Email Service Providers:
For many people, this means MailChimp, but even if you use a different platform for managing your email subscribers, the point stands that you should integrate it with your website. People who opt-in to email communications are a group of customers that you need to keep engaged – but it doesn't have to be hard work.
While weekly email communications are important too, there's quite a few simple email automations that can make a big difference to your business. So, let's explore automations next…
Automations:
Work smarter, not harder, by using an email service provider to do some of the heavy lifting for you. We're going to walk you through a few of the automations that every e-commerce business should have set up.
Abandoned Carts:
In March 2020, 88% percent of online shopping orders were abandoned. That's a lot of wasted potential. Luckily there's a way to fix that!
One of the first automations an e-commerce business should set up is an abandoned cart email to remind people of the items they left behind. According to Campaign Monitor, cart abandonment emails have a greater than 10% purchase rate, so it's easy to turn things around and win that conversion.
The great part is, once the email is set up, you don't need to do much! Merely update the copy and graphics at regular intervals to make sure it looks fresh.
Lapsed Customers:
Getting new customers to convert is a pretty difficult process – chances of success hover around 12% on average, however the chances of getting an existing customer to buy again are about 2.5x that. You can help push previous customers back down the conversion funnel with a lapsed customer email that reminds them on your brand.
It's an easy automation that goes out when someone hasn't made a purchase on your site in a certain number of months (that length of time is up to you!). You might include a discount to entice them to look at your site again or you might highlight new products that have been added recently. Whatever you decide to do, this automation is a must!
Birthday Treats:
Everyone loves a birthday surprise – even (maybe especially) when they come from brands we love! Birthday Emails are some of the most effective promotional emails you can send with higher transaction rates and revenue than pretty much any other promo email type.
Making your customers feel special is a great way to keep them coming back, so consider including a birthday field in your data capture.
Review Reminders:
95% of consumers do online research as part of their buying journey, with reviews, ratings and testimonials being the second most important part of their search. Therefore, encouraging current customers to review their recent purchases will be an important part of convincing potential customers to convert.
Consider automating review invitations to ensure customers take part when the purchase experience is fresh in their mind.
Beyond the Set-Up
Integrations and automations will make a huge difference in your business by making things easier for both you and the customer. However, it's not quite as easy as set-up and go!
If you're planning to integrate your shop onto social media, you need to have active social media and a social strategy in place. If you're setting up email automations, you'll need good copy and graphics that are consistent with the rest of your brand look. This is where fatBuzz can help.
We've worked with a variety of e-commerce businesses across many sectors and can help you draft the perfect copy for your email automations and ensure you're following all the e-commerce best practices.
---
Get in touch about our marketing, web development and design services.