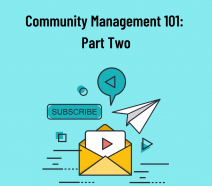 In Part 2 of our blog series on community management, we will be looking at using social media as a tool for effective community management, with the most popular sites used being Facebook, Instagram and Twitter.
More than 40% of digital consumers use social networks to research new brands or products. You can create a community this way by interacting with all current customers and target audiences – as fans share and like your content, you rise in the social algorithms and gain new, free, exposure.
Before we dive in to some top tips for using social media to create a better community, you should know that we have a QuickBuzz video covering the whole Community Management series if you prefer to learn by listening.
Managing Customer Complaints
The days of sitting twiddling your thumbs and hoping to hear back from an email are starting to fade away. Social Media is now becoming increasingly more popular when it comes to fielding customer complaints – research found that this has actually increased by 8 times from 2014 to 2021. Some companies resolve customer issues entirely on their social channels, after all they are legitimate vehicles for troubleshooting.
If you want to know more about best practice for managing customer complaints, check out our first post in the community management series which covered top tips for improving your customer service.
Engage with People
When businesses reply individually to a customer's comments, tweets and so on, this makes them feel special and included in a community. Look for ways to improve two-way or even multi-way communication with your customers. Using social media to foster and support brand fans can lead to great marketing moments – remember, World Nutella Day was started by a fan, not the brand.
Some brands have begun to do this with brand communities, using free and existing tools such as Facebook Groups or Reddit Threads. Creating brand communities allows brands to stay in tune with the wants or needs of their main base and can spur on product innovation. When a brand clearly takes some direction or suggestion from these communities, their followers feel like their voice has been heard and it can increase their positive feelings towards the brand.
They can also increase engagement between fans, allowing them to feel part of something bigger, purely by being a consumer of your product or service.
Show Appreciation Online
As a business you want your customers to return, feel welcomed and have an incentive to buy from you. A simple way to do this could be thanking consumers for their loyalty on social media from a tweet or Facebook Post.
Loads of businesses provide loyalty cards or memberships to their regulars. Amazon are a great example of this as Prime members spend more and buy more frequently than non-Prime members do. As of last year, Prime boasted more than 100 million paying members across the globe.
You can also thank consumers for their dedication by offering discounts, whether it is to NHS staff, Blue Light cardholders or students – this shows that as a business you care about your community and want to give back.
---
If you need help with community management, social media advertising or any other marketing service, the team at fatBuzz is here to help.
Get in touch with us today to enquire about our marketing services.