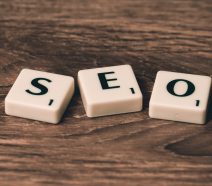 Search engine optimisation or SEO as it's known in the digital marketing world is necessary for any sort of digital marketing success. SEO is the process of increasing a web page's search rankings in order to increase online visibility. When 93 percent of online experiences begin with a search engine & 47% of people click on one of the first three listings, the importance of SEO is crucial.
On-page optimisation
First start by identifying keywords to attract more organic search traffic. Next we need to ensure pages are optimised for search engines. On-page means optimising everything on a website to improve the organic search results from content optimisation to technical aspects for example meta tags (part of the HTML code), headings and punchy URLs to name a few. If your website content is created on WordPress a plug-in such as Yoast may come in handy.
Research and use relevant Keywords
Keywords are the basis for success when it comes to SEO. Online rankings when the right keywords are carefully selected. Knowing what your customers are actually searching for is a great place to start. For most businesses, this will be a combination of what you do and where you do it.
Create a list of keywords by simply writing down words relevant to what your business does or use a keyword research tool online to help you identify new keywords. Another option is searching for keywords and adding whatever auto-suggestions pop up to your list. The goal is to identify and prioritise the keywords that potential customers use when searching for the products and services you offer.
Content is King
SEO can only be successful with fresh and useful content. Content marketing involves the art of creating relevant and valuable content to attract target customers or clients to your site. Content must be created with your specific audience in mind in order to drive traffic to your site. Google ranks sites by pages that contain high-quality and relevant information about the searcher's query. They do this by 'crawling' your websites content and assessing whether that content is useful and solves a particular issue for the searcher mainly based on the keywords it contains. Unique and engaging content typically rank higher among Google's algorithms.
Off-page optimisation
If you're new to SEO, you may be wondering what a backlink is and why it matters. Backlinks are links that are directed towards your website which are also known as inbound links. Backlinks are important as search engines will give more credit to websites with a number of high-quality backlinks. When it comes to backlinks just remember… quality over quantity! The higher the relevance, the greater the quality.
Citations
A citation is a mention of your business name on another website. They may include a link to your website or they may not. Citations are an important part of the search algorithm and are used by the search engines to help determine where to rank your site amongst the competition. If you have accurate citations, then you will likely be returned above them in the search engine result pages (SERPS). If you are a local business then citations from local directories are going to reinforce your position within the local business community. This all leads Google and the other major search big engines to trust that you are a trusted local business and will return pages from your site in search results therefore increasing your businesses visibility.
Guest Posting
Guest posting – also known as guest blogging – is a long-standing link-building technique. The concept involves writing a blog article according to the requirements of a particular blogger and getting a backlink in return. Backlinks are one of the most important ranking factors in SEO. Publishing useful content on high quality and relevant websites is likely to benefit your search engine ranking position and ultimately bring more traffic to your website.
Technical SEO
Speed performance
In this digital age we live in, user experience is becoming more and more important. What do you do when a page isn't loading? Usually click off and click on a different one. Slow speed performance can negatively affect how your page is ranked by Google as this effects the user experience – one way Google evaluates the value of your site.
Checking broken links
If a user is directed to a page with 404 error this is what we would refer to as a broken link'. But, when one of the ways search engines rank websites is by crawling links, this is no bueno. Google will avoid indexing your site and users will be put off and may never return to your site. Checking for broken links often will help you avoid any of these scenarios.
HTTPS
The S at the end of the "http" part of a URL means a website is secure. The easy way to tell if a website is secure is to check for the padlock in the URL bar. Failing to use an SSL certificate can imply security issues to search engines, particularly if your site is one which uses e-commerce or form submissions. If you do anything, secure your site!
Do it right!
There are two different types of SEO; Black-hat SEO & White-hat SEO. White- hat SEO involves SEO tactics that are approved by the major search engines and are compliant with the terms and conditions i.e. don't break the rules. On the other hand, Black-hat SEO tactics are against search engine guidelines and are used to get a higher ranking in search results. Being visible in search results is essential but there's a right and a wrong way of doing it. Using shady techniques like Black- hat SEO is actually likely to damage your online presence in search engines in the future. Always use legitimate techniques for SEO such as those endorsed by Google – it'll pay off in the long run.
Do I need someone's help?
Basic changes can make a big difference in how search engines see your website, however to succeed in SEO requires study and practice but with the internet at your disposal, free useful information is only a click away. However, not everyone has the time to teach themselves and requesting some extra help from an expert may help! If this is something you are seriously considering, don't hesitate to get in touch with us here at fatBuzz and let our SEO Specialist team do the work for you.