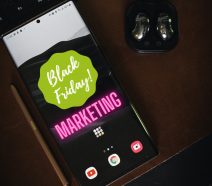 The biggest shopping weekend of the year is now a well-known concept around the world. While it's a relatively recent part of UK culture, it has been a staple of American Thanksgiving traditions for a long time.
You may have wondered how Black Friday got its name or heard the oft-repeated rumour of its origins. That businesses were in the red (deficit) until the day after Thanksgiving when heavy sales finally moved them into the black (profit). This story, however, seems to originate somewhere in the 1980s whereas the phrase Black Friday was first used in the US during the 1860s.
The First Black Friday
The early usage was in regard to a specific date, 24 September 1869, and has no connection to the Black Friday we know today. In fact, it is quite the opposite: not a day of shopping and prosperity, but one of financial ruin. The original Black Friday saw an enormous stock market crash caused by an aggressive gold-buying scheme orchestrated by two Wall Street Financiers.
We see the term start to pop up again in the 1950s. This time actually in connection to the Friday following Thanksgiving, though still not in the context we know.
(American) Football Fanatics
In the US, the city of Philadelphia would host the Army vs Navy Football game on the day after Thanksgiving. The event would bring hordes of tourists to the city creating traffic jams, crowds, and increased pickpocketing and shoplifting. As such, the Philly police force wasn't allowed to take this day off and would work longer shifts than usual. Regarding this as one of their hardest workdays of the year, they called it "Black Friday".
Of course, not everyone in the city hated this day. Shopkeepers who benefitted from the increased tourism tried to reframe it as "Big Friday" to add a positive spin. Though the name never stuck, the sentiment did. As the red vs black myth spread, Black Friday got a much better reputation and soon became synonymous with shopping.
Other major events in cities, such as the Macy's Thanksgiving Day Parade, similarly promoted tourists coming into cities to celebrate and staying to shop on the next day.
Black Friday Today
The popularity of this retail holiday has spread beyond the US, first appearing in the UK around 2010. Last year, US consumers alone spent 7.4 billion dollars online during Black Friday. In the UK, Barclaycard had a new record on Black Friday 2019 when they reached 1,184 transactions per second between 1 and 2pm that day.
Website hosting such as Shopify noted over 2.9 billion in revenue over the course of the Black Friday weekend last year. While E-commerce has been on the rise anyway, this year it will be more important than ever as social distancing persists.
Undeniably, this has become a vital weekend for retailers over the years. So how can you capitalise on the big event?
Black Friday Marketing Ideas:
The Blanket Discount (20% off of all items) is the easiest way to get started with Black Friday, though it might not excite your customers. Doing something special for Black Friday will help make this stand out from your average discount.
To make the shopping more exciting or simpler for your customers, check out these ideas:
Sale on Black Products: If you have a big product catalogue that includes many black items, this can be a fun play on the name of the day.
A deal an hour: Having new offers appear every hour will create a sense of urgency and keep people coming back throughout the day.
Gift Guides: Many people use Black Friday to do their holiday shopping. Creating bundles can help you upsell products while making choices simple for the consumer.
Email Early Access: Give your email subscribers early access to discounts so they can get ahead of the crowd. This may help you build your email list before the big day and hopefully retain them after.
Give to charity: Some people are a bit put off by the rampant consumerism of Black Friday and might feel better if they knew their purchase went to help a good cause.
To get the word out about whatever you choose to do, be sure to use any hashtags that are trending that day. For more on how to use hashtags effectively check out last week's blog post on Hashtag Best Practice.
---
Missed Black Friday this year but want help coordinating future marketing strategies? Get in touch with us on hello@fatbuzz.com or call us on 0141 427 0727 to enquire today about our marketing services.