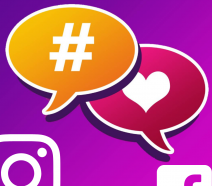 In short, yes.
Once a somewhat mocked part of social media, marketers have long ago figured out that hashtags can actually be an incredibly useful tool.
Let's dive in to exactly *how* they help and what's the best practice for different social media platforms.
Hashtags provide value in 4 key ways:
Discoverability:
If your posts are public, hashtags make them searchable to audiences beyond your following. On some platforms, people can follow hashtags meaning that content using those tags will appear in their feed, not just when they actively search.
Organising Content:
Create an event hashtag to keep all content surrounding that together, or a campaign hashtag to easily find content from a certain campaign push. Using branded or custom tags can make it easier to find your content around a specific topic or content series.
User Involvement:
On many platforms, hashtags are used to encourage discussion around a topic or to promote participation in a challenge of some sort. Creating a hashtag specific to your challenge or discussion makes it easier to find and share user generated content.
Social Listening:
Reading up on trending hashtags can help you understand topics that are important to your audience right now. Some platforms, like Twitter, will tell you what tags are trending in your area and it can be useful to read the conversations happening around those.
Which Platforms Use hashtags?
Honestly, almost every major platform uses hashtags, however acceptable usage will differ. For some, stuffing as many tags as possible in the caption and first comment will benefit you while on other platforms, engagement drops off after more than one hashtag is used.
So let's take a look at some of the major marketing platforms and how to use hashtags effectively for each.
Facebook:
The use of hashtags on Facebook has been on an off over the years, however at present in 2020, it seems that Facebook is again trying to promote using them in posts. At the moment, best practice seems to be using hashtags sparingly. Just one or two integrated into the text rather than cluttered at the end is where you'll find the most success.
LinkedIn:
Remember that LinkedIn is a professional network, so your use of hashtags should reflect that. Using 3 – 5 at most is probably a good gauge and they can be in-text or at the end of a post. Too many tags will make your post look spammy and unfocused.
Learn how to Make the Most of LinkedIn with our Training Courses.
Instagram:
Instagram is one of the most common places to use hashtags. Here, they are typically used in a clump at the end of a post caption or in the first comment below it.
Twitter:
Given the character limit on Twitter, hashtags should definitely be used sparingly. Integrating them into the text will help you ensure that the tags are truly relevant to your content.
Pinterest:
Pinterest, like Facebook, has had an on-again, off-again relationship with hashtags, but in 2020 it seems they are on a break once again. At the moment, they don't appear to be clickable or searchable which effectively renders them useless on this platform.
TikTok:
You only get 100 characters in your TikTok caption, so you better make it count. Hashtags are *definitely* worthwhile to use as they make you easy to find via searching on the Discover page.
Find out about marketing on TikTok and whether or not your brand should be on it.
Some Hashtag best practice:
When it comes to formatting them there's actually more options than you think. For example, on Instagram you don't need to separate the hashtags with spaces for them to work individually. You could tag like this: #marketing#fatbuzz#contentcreation and you would still get 3 different clickable tags.
However, for better readability, we have two suggestions: use spaces (unless you're really stuck with character limits) and capitalise within a hashtag. #themoreyouknow looks a bit more readable as #TheMoreYouKnow.
This won't have any huge effect on your engagement, but it will make things easier for your audience.
---
Feeling #overwhelmed?
Don't sweat it – fatBuzz offers a full range of marketing services from social media management, to content creation, and graphic design.
Get in touch with us on hello@fatbuzz.com or call us on 0141 427 0727 to enquire today about our marketing services.