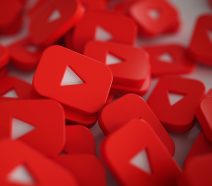 The popularity of video has fast-forwarded in the digital world with more and more video content dominating online newsfeeds. As attention spans draw shorter, this has provided the opportunity for marketers to engage in creating content that's more interactive and visual. Here we give you an insight as to why you should focus your efforts on video marketing as a core part of your content marketing strategy in 2017.
Video helps encourage brand recall
One of videos biggest strengths is that it's highly visual and auditory. Video content is much easier to recall than text-based content and according to HubSpot, 80% of customers will remember a video they've watched in the last month. With 78% of people watching videos every week, it provides a tremendous opportunity for marketers to drive leads with video content.
Tip – make sure you keep your videos in line with your brand strategy including same colours, fonts and logos to keep branding consistent.
Video marketing can enhance your website's SEO
If you're looking to drive more traffic to your website, creating engaging branded video content is an excellent way to do just that. It's great to hear that already 81% of businesses feature their video content on their website and even better to hear that 39% of business decision-makers initiate a sales enquiry after viewing a branded video (HubSpot). By including video on your website and landing pages, it'll not only help boost click through rates, but page ranks too.
Tip –  by adding a transcript in the audio portion of your video, it will help improve findability.
Video performs well on all devices
Whether you're watching videos via your desktop or mobile browser, video marketing is extremely responsive and user friendly. However, with the uptake and popularity of mobile browsing, it's important to consider the different formatting of videos that will help create maximum engagement.
Tip – check out our Success is Square video blog where we look how different video formatting can change the way users engage with your video.
Video creates great ROI
Video may not be the cheapest content marketing activity, however recent research shows just how well it can pay off. 76% of businesses say that video marketing provides a good return on investment. Your videos don't have to be perfect or filmed with the latest equipment. It's all about the content and there's plenty of affordable or free video tools that make it easy for you to edit and design your own.
Tip –  Pay attention to what KPI's are most valuable to you. Is it the percentage of viewers who watch the whole video? Is it down to which videos the converted leads are watching? This will help you understand which video types or content resonates well with your audience.
Do you use video in your content marketing strategy? At fatBuzz, our in-house video production team can provide an all-encompassing video service, tailored to your needs. Why don't you get in touch?