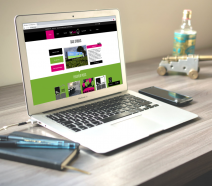 Fresh out of university and eager to break into the world of digital marketing? Or maybe you are considering switching gears and getting into the industry? Whatever it is, our advice would be to go for it! Our industry is fast paced, rapidly evolving, and it can be extremely rewarding. If you need a guiding hand to get you started, here are five tips to kickstart your career in digital marketing.
A 'can do' attitude will take you far
The best way to break into any industry is to gain experience. It may mean doing internships and gaining work experience in weird and wonderful ways, but it is a worthwhile investment in the long run. An internship can be a fantastic way of gaining hands on experience, making contacts, learning a wide range of skills and getting familiar with the industry. It can be one way to set yourself apart from other candidates on the job hunt.
Keep up to date
We all know that the digital world is ever changing – anyone remember Vero? It's important to keep up to date with the latest industry news, apps, tools and updates by reading digital marketing sites such as Hubspot and Marketing Week. It's also a great idea to sign up for newsletters that can help keep you in the know about upcoming trends and techniques. This can also come in handy in interviews as it shows you are a keen learner and always looking to build your knowledge.
Create and maintain your own personal brand
If you are serious about a career in the digital marketing industry, it's important to start with yourself. If an employer is going to entrust you with managing their online visibility or their client's online visibility, then you need to show that you are able to build and maintain your own personal brand. Keeping your online presence up to date on platforms like LinkedIn and Twitter can go a long way and gives you a better chance in the job market, bearing in mind many employers use social media to scope out potential candidates.
Build a portfolio
Having examples of your work to hand is always a fantastic idea. Build a portfolio of your best digital work, whether this be a great social media post, an eye-catching email campaign or engaging blog post. Alongside your CV, it's very likely that employers in the industry will ask to see examples of your work to gage your suitability for the role. If they don't ask for it, it's still a great way to demonstrate your experience, passion and expertise.
Know the lingo
If you are a newbie, it's important to learn the lingo. Familiarising yourself with the basics such as PPC, SMM & SEO will stand you in good stead for interviews, and will demonstrate you have a good understanding of the wider landscape, even if you're not a specialist in these areas. There are thousands of great online courses at your disposal so there really is no reason not to start learning! At fatBuzz, we run a monthly New Media Breakfast to share the latest industry tips and our knowledge across a breadth of marketing subjects. Plus, it's a great networking opportunity. Find out more about our New Media Breakfast in Glasgow and Edinburgh here.
Don't say no to entry level jobs
No one starts at the top in any industry, no matter how many years of education or training they may have. It is common for people in this industry to start out as an intern or assistant until you have proven that you are capable of juggling more responsibilities. Until then, work hard and don't give up. Digital marketing is a fantastic and constantly evolving industry.