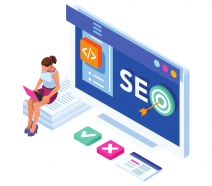 Search engine optimisation (SEO) is a way of helping your webpages rank higher in search engine results, meeting certain key identifiers that are picked up by the algorithms of Google, Bing etc.
In this QuickBuzz video, our Marketing and SEO Assistant, Brittany, gives a brief overview of the importance of SEO and discusses how a business can get started with the basics to improve their website's search ranking.
To find out how fatBuzz could help your business, read about our in-house SEO services, get in touch with us on hello@fatbuzz.com or call us on 0141 427 0727.