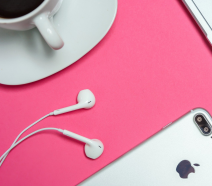 Happy New Year and New Lockdown! In 2021 we'll continue to bring you monthly round-ups of the latest in marketing, so check our blog regularly for new posts!
While last week's blog covered some reflections for 2020 as a whole through Google's Year in Search, this blog will cover December's best marketing moments and news updates.
We know everyone's ready to put 2020 behind us, but there are still some great marketing takeaways from last month that are worth learning from.
Here's the best of the best from what we've discussed in December:
Must-Know Industry Updates:
Ad Changes with iOS14:
Starting in early 2021, Apple users on iOS 14 will have some of the most stringent privacy coverage available. Developers of apps will need to ask users to gather data and track them across mobile apps and websites on iPads and iPhones.
Currently, data tracking happens with little control from users or at best is an opt-out system rather than an opt-in one. Facebook is highly against these changes under the guise of helping small businesses, but more likely they are afraid it will undermine their advertising sales power.
Marketing Takeaway: The targeting on Facebook and Instagram for advertising, often cited as one of the best in the industry may see a major plunge in effectiveness if they can no longer track interest of their users accurately. 
Top Downloads & Monthly Users:
No one will be surprised that TikTok was the most downloaded app of 2020. Zoom jumped 219 spots on the downloads chart as well, having become a household name in March. While these are major jumps, Facebook-owned apps still own the top four spots in the rankings for active monthly users with Facebook, Whatsapp, Messenger, and Instagram.
Notably, Twitter is at spot #6, remaining the same since 2019, TikTok is at spot #8 having jumped 5 spots and Snapchat is at spot #10 having dropped one.
Marketing Takeaway: For most businesses, having a presence on Facebook and Instagram or Twitter still remains a must-have. However, if you put a lot of energy into Snapchat and none into TikTok, you may want to keep watching these platforms to see if it's worth adapting your strategy.
Tools & Features We're Excited About:
Instagram Content Calendar:
This update doesn't seem to be rolled out to everyone yet, but within Facebook's Creator Studio, some people may begin to see a new calendar option within your Instagram tab. The new feature allows you to schedule feed and IGTV posts up to six months in advance, though there doesn't appear to be a capacity for scheduling stories yet.
Marketing Takeaway: While there are other scheduling apps out there, having this available through creator studio can make mapping out an Instagram strategy much more accessible. Seeing your coverage laid out in a calendar may help you identify gaps in your content planning so that there's no scrambling to fill it later.
Campaigns We've Loved:
Influencers for the vaccine:
Fearing low take up of the vaccine, the NHS is looking to implement an influencer strategy to persuade people to take it. No names have been confirmed yet, but they're looking for people who are well-known, well-loved, and are seen as sensible – both in general and in how they've acted throughout the pandemic.
Our vote is for UK national treasure, Sir David Attenborough. We'd do just about anything he suggested.
Marketing Takeaway: Influencer strategies are alive and well heading into 2021. If you're considering using influencers, take note of the NHS approach: looking to choose influencers whose values match your business' is hugely important! We'll be interested to see who they end up going with in the end.
McDonald's Hair Salon:
One of the stranger campaigns we've seen, but it did give the fatBuzz team a good chuckle. Some of the franchisees of McDonald's in Sweden realised that a 90's hairstyle which was making a comeback looked a lot like the McDonald's Golden Arches.
As a result, they opened a "Golden M" barbershop to get more people wearing the infamous arches on their head and developed an app that would give you a free Big Mac if it determined you had a perfect Golden M hairstyle.
Marketing Takeaway: Promotions that are a little off-kilter are bound to get people talking about your brand. This campaign is humorous without making any person, group, or cause the butt of the joke which is why it works so well. Note that humour is definitely a thin line to walk and ends up going badly as often as it goes well though!
---
That's our recap of what was happening in marketing last month!
If you've been finding it hard to keep up with all the platform changes while trying to put out ads as good as these, then perhaps we can be of assistance! Get in touch today to find out how the fatBuzz Marketing Team can help with your campaign strategy.