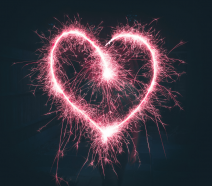 "I'm also just a girl, standing in front of a boy, asking him to love her Facebook post."
Valentine's Day means many things to many people.
It's up for debate whether it began as a celebration of the titular Saint Valentine – who married young couples in secret – as an excuse to sell greetings cards, or as a modern update on a pagan fertility ritual (no, seriously).
However, despite its origin, it's hard to avoid the fact that nowadays everything gets a little bit heart-shaped around the 14th of February. Businesses of all kinds can use this opportunity to run seasonal campaigns promoting their products and services, or simply engage with the digital activity of their customers around the most romantic day of the year.
Today, we're playing cupid as we take a look at what Valentine's Day has become for brands around the world and how marketing teams can capitalise on all the love in the air.
Here are 4 ways to make customers fall head over heels with your brand on Valentine's Day:
Launch Themed Promotions
After the rise of Valentine's greetings cards, chocolate and candy companies were next to follow the Valentine's Day frenzy, shaping them into hearts, packaging them into love-themed boxes and making special promotions in the lead up to the 14th of February.
It's the perfect meet-cute of products and customer needs, which in this case is buying confections as a gift for a friend, crush or significant other.
The marketing of Valentine's Day has grown to the point that businesses from almost every industry advertise their goods towards the romantically inclined; from flowers and jewellery to restaurant bookings, weekend getaways and more.
Companies selling suitable products, experiences or services should look into running themed promotions for Valentine's Day or launching new products to celebrate the holiday. If your brand specialises in gifts, presenting a cleverly themed promotion or special offer before the big day will undoubtedly have your customers at "hello".
Share the Love on Social
With the power of social media, you can utilise your channels to reach and engage with your audience for Valentine's Day. You could encourage people to post something to show how they celebrate, create hashtags, build a whole campaign themed around the holiday; anything goes, as long as it makes sense for your brand.
For example, US telecom giant T-Mobile ran a campaign asking its users to write a break-up letter to their phone contract providers, explaining why they were switching to T-Mobile. This was tongue-in-cheek, engaging and allowed them to receive useful feedback from users to understand their needs a bit better.
At a bigger budget, Google's 2010 Super Bowl ad (find out more about Super Bowl Marketing here) aired a few days before Valentine's Day. The very successful campaign called "Parisian Love" told a romantic story through images of Google searches.
Don't.
Our next piece of advice for Valentine's Day is… know when NOT to celebrate Valentine's Day.
This may seem obvious, but in marketing it's always important to know when to avoid jumping on the bandwagon. Although Valentine's Day can be celebrated by anyone and everyone, it might not necessarily make sense with the type of business, products or services you're trying to sell. It's worth judging your campaign idea based on the reaction you expect from customers and whether your time and effort is better spent elsewhere or at another key time of year.
So, before you go buying an engagement ring for your Valentine's-themed marketing strategy, it's crucial to ask: Is it the right match for your brand?
To paraphrase Robin Williams' character in Good Will Hunting:
"It doesn't matter if the campaign is perfect or the brand is perfect, as long as they are perfect for each other."
Make a Charitable Gesture
An incredible amount of money is spent every year by consumers who show their love through gifts. In 2018, £650 million was spent on Valentine's Day gifts in the UK alone.
The celebration is even bigger in the US, where around $448 million is spent annually… just on candy! The American market is incredibly lucrative where, on average, men spend $150 and women spend $74 every year on Valentine's gifts, cards and experiences.
As an alternative suggestion for your brand this Valentine's Day, you could celebrate the season of love by making a charitable gesture. This can be especially timely if you don't want to engage with the commercialism of the holiday and instead promote your corporate responsibility.
Donating and showing support for a cause or local community can be a good way for a business to participate in Valentine's Day through a gesture of appreciation and generosity.
---
A few important things to keep in mind:
Emotion Marketing Sells
Creating ads, offers or campaigns that people can relate to, laugh at, or feel emotional towards can create tremendous engagement for your brand, provided the content you create and share is meaningful.
Brand Association Should Always be Considered
There's only so much you can tweak and twist in a campaign to adapt it to your brand. If your services don't fit the occasion, there will always be a better time to promote them.
Don't be afraid to be creative!
Find interesting and inspired ways to communicate your message, especially when doing so through your social channels. Social media is overflowing every year with Valentine's Day campaigns, so creativity will surely be much appreciated by customers and followers.
---
"Of all the blogs in all the towns in all the world, she walks into mine."
We hope this post has got you thinking about how to go about engaging with Valentine's Day in the future (or at the very least we hope you enjoyed the puns and movie references!). 
At fatBuzz, we offer a range of services that can help businesses share their message to the right customers, from graphic design and social media management to email marketing and paid advertising. 
We are here to help you spread the love! Get in touch with us to arrange a coffee and chat to see how we could help you with your next campaign.