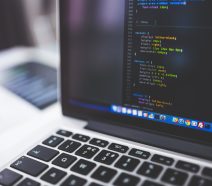 Hiring the right digital agency can transform your branding and business for the better and knowing what you want and how to communicate it, can save you valuable time and money.
At fatBuzz, our team is made up of qualified and talented web designers and developers. Over the past 20+ years, we have helped countless businesses using the latest standards to bring their website to life; today, this means creating appealing, dynamic, responsive websites that work.
Here are 5 reasons to choose fatBuzz for your website design:
We make it easy
Based in Glasgow, we work with clients throughout the UK and we take pride in creating bespoke, innovative designs. We don't just design websites, we solve problems using the Design Thinking Process
Following this 5-step strategy allows us to cover all critical stages of web design process. We have a varied team of designers, developers, content writers and marketers to assist through every stage of the project. We don't use technical jargon and have no hidden costs, just brilliant websites that are easy to edit, look great on various devices and are built for your businesses' success.
We communicate
Full website training before your site goes live is available as part of our project. Ultimately, we are committed to serving our clients' needs and will consistently communicate with before, during and long after the date the website goes live.
We use an Iterative Design Process to prototype your website rather than design. We encourage our designers, developers and clients to interact with our prototype website to help collaboration and instant feedback. This allows us to test and learn about the final product to help identify any issues or changes during the early stages. We support your website for the first 3 months to ensure a successful launch and offer a variety of support contracts to maintain your site.
We keep websites optimised
All websites we create are mobile, tablet and desktop optimised and are fully responsive, delivering the best possible user experience for our clients. We constantly strive to use modern methods and practices that will keep websites responsive, loading fast and easy to use.
We are committed to Excellence
We provide a professional, personal and bespoke service along with sustainability and long-lasting features. Our commitment to excellence is about hard work and dedication to achieve excellent results. We have a portfolio of all different types of websites including, e-commerce, B2B, company social media platforms and brochure websites, across a variety of different sectors. We pride ourselves in going above and beyond our client's expectations and always strive to improve our performance even further.
We deliver results
We implement creative and innovative websites, projects campaigns and designs that have a positive and measurable impact for your business. User experience principles underpin all our web design work, influencing shape and structure, colour and style. We are proud of our consistently positive feedback from our clients:
"fatBuzz go the extra miles for the client especially when given often challenging timelines and importantly are not afraid to challenge you on strategy and tactics which adds value to the final product. I would recommend them wholeheartedly to any company looking for a digital competitive edge."
P J Donnelly, Ambicare Health
"fatBuzz has supported Dean's in building up a very successful online presence, which has become an integral part of Dean's overall strategy. As a result, we instantly saw a huge increase in the number of people visiting our site."
Siobhan Ingram, Dean's
If you would like to find out more information or arrange a chat about Web Design & Development, please give us a call on 0141 427 0727, or drop us an email at hello@fatbuzz.com