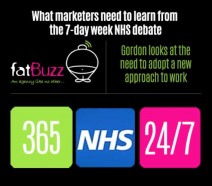 We are hearing many promises from the various political leaders in the United Kingdom this week about creating a
7-Day Week for the National Health Service
. Personally, I can easily see why they are aiming to achieve this, after not all people just get sick Monday – Friday!This got me thinking about my recent presentation on Blogging, and specifically how to get your blog posts shared.
I was suggesting it's time for businesses to breakaway from the current Monday to Friday – 9 to 5 culture, especially if they've adopted a digital approach to marketing.
In an increasingly digital age, consumers are not necessarily engaging Monday to Friday – 9 to 5; they want to connect with you when it suits them. Invariably that will be sometime other than Monday to Friday, 9 to 5, and there is an increasing expectation that you will be available to them.
Admittedly, the expectations vary depending on the business; there's a general acceptance that traditional businesses, operating regular office hours, will answer your query during the next business day (but even this is changing).
However, if you are reaping the benefits of online trading and generating revenue 365/24-7, consumer's expectations have already changed; they want to be able to engage, especially at a customer service level, whenever it suits them.
Good online traders have embraced these new shopping trends, offering exceptional customer service when their customers need it. Even though I haven't personally used them, Zappos in the USA has achieved legendary status in terms of customer service, and it's a 100% online business.
I've spoken before about using data to establish where your customers want to engage; if you customers were largely using Twitter to engage with you, it would be folly to concentrate your efforts on Facebook.
Likewise, if your customers are largely contacting you between 8pm and 11pm, why are you continuing to share content Monday to Friday between the hours of 9am and 5pm? Use the data to fine tune when you share the content – the best time is when they are online, and good analysis of your data will reveal when that is.
Marketing support agency, TrackMaven published some interesting results to a survey on sharing which demonstrate the need to rethink the Monday to Friday – 9 to 5 culture.
Analysing over 4600 blogs with a combined 1,167,426 posts they found the following:
87% of posts were published during the working week
Posting drops to 6.3% on Saturdays and 6.8% on Sundays
Although posting drops to 13.1% over the weekend, they achieved 32.6% of the total shares for the data set
Saturday was the most successful day to share content – 6.3% of the posts achieved 18% of the total shares for the week
The majority of the posting was done between the hours of 9am and 6pm, however social shares are at their highest for these posts between the hours of 9pm and midnight
These findings clearly show the need to experiment with the time you post your content.
It is worth noting that your customers have day jobs too, they are most likely to engage out with these hours when they have the time to do so.
It might not be a case of life and death as it could be in the National Health Service, however if you want to healthy return on your investment, start share your content at the optimum time.