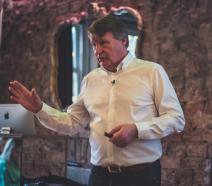 We are excited to announce that our Managing Director, Gordon White, has been appointed as Chairman of WeDo Scotland. Gordon has been a member and advocate of the entrepreneurial support organisation for over ten years and recently has praised the incredible help the group has provided to each of its members in light of current events. Gordon will be taking the helm from previous Chairman, Paul Atkinson.
The whole fatBuzz team is extremely proud of Gordon for his continued involvement in supporting other businesses, inspiring us and many others to adopt his "can-do attitude", as the Times described it.
Gordon said he feels very privileged and is delighted to accept the position :
"Looking to the future, I relish the challenge as we continue to deal with the current economic problems. I am very confident that, working with the Executive Team and the members, WeDO Scotland will flourish. There are genuine opportunities for us to expand our range of services and our geographical reach. I look forward to helping grow the reach and influence that WeDO Scotland has within the business community, and as a powerful voice at Government level."
We look forward to seeing Gordon use his expertise and mindset to grow WeDo and further its impact on Scottish businesses.
PS: We are framing these news articles as soon as we're back in the office!