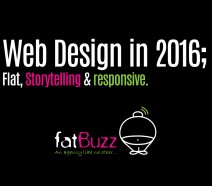 As our technology and abilities for accessing the web improves, so does the design and quality of our websites. All this makes for fast paced changes, updates and new trends in web design. What emerged only 12 months ago may no longer produce the best design for your website.
Here are the different elements we think will be most important when considering web design in 2016:
Responsive
Thanks to the rise in mobile devices, not to mention changes in Google Algorithms in 2015, websites have become much more responsive than ever before. Last year, many businesses were penalised by Google for not operating mobile-friendly sites. This saw them drop dramatically through the rankings and require a website redesign in order to improve their SEO, as well as appeal to potential customers and clients. As it's now predicted that there will soon be more mobile Google users than non-mobile, this trend is set to continue into 2016.
Flat
Another trend to emerge over the last year or so was flat design. This clean-cut, simplistic approach to design is here to stay as it offers an easy, efficient user experience which isn't overly complicated or bursting with different colours, patterns or fonts. Whilst flat designs will continue to change slightly to keep with the times, the overall concept will remain popular in 2016.
Storytelling
As the old saying goes, a picture tells 1,000 words, and in an age of content overload, your images can be powerful tools when it comes to web design. Whilst content still plays its part, and allows you to captivate users with top content, your design can hook them in a matter of seconds if utilized correctly.
One great way, and another emerging trend in this vein is background video. By optimising the background of your site with an automated company video, your design immediately captures who your company are, and the values you have.
Card Based Design
Thanks to the likes of social media platform Pinterest and software giant Microsoft, card-based design has been given more attention over the last year or so. This grid-like approach to design is clean and consistent, which helps present your information in an effective way. Using a card-based design you can easily give priority to some elements of your site, whilst making other factors easy to find.
This trend will continue to prove popular in 2016, and thanks to the nature of its very visual design, can also help with the storytelling of the site. As images tend to take precedence over information with this kind of design, it's more important than ever to consider imagery in your website.
For more information on our web design services, or to find out which design trends could help you attract more attention in 2016, give Kyle Murdoch or Gordon White a call on 0141 427 0727 or send us an email at hello@fatbuzz.com.