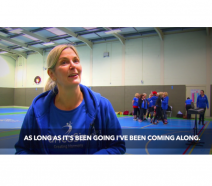 Did you know that vision is our most dominant sense? That's why we are drawn to pictures but even more to video. Video is an essential part of a marketing campaign as it can boost engagement and even sales. There are many different ways to utilise videos in marketing campaigns from testimonials to How-to videos to filming company events.
Adding subtitles to videos is always good practice, allowing everyone watching to understand the message of the video. This year, The Silent Child won Best Live Action Short Film at The Oscars. The film highlights how important it is to accommodate those living an otherwise silent life. Closed captions are imperative for those with hearing disabilities so that they can still enjoy and learn from your videos and what better platform to raise awareness than at The Academy Awards.
Nowadays, adding subtitles to a video that is used on social media is crucial, as many people watching may be doing so while short of time or just don't want to unmute the video.
According to DIgiday, 85% of Facebook videos are watched without sound. Adding subtitles means that these people are still receiving the message in your video.  It's interesting to learn that viewers retain 95% of a message when they watch it in a video compared to 10% when reading it in text. Thus, showcasing that video should be incorporated into your marketing strategy, always accommodating those watching without sound.
All social media platforms are always encouraging users to include video content.  Facebook already has a capacity for live video and is constantly updating their platform for videos. Instagram has increased the allowed video length to 60 seconds and Instagram stories are the current trend. It comes at no surprise that YouTube is the second most popular social media network after Facebook.
Another good time to add subtitles to a video is when using it at shows or during presentations.  A picture is worth a thousand words but when showcasing your product or service to a large number of people, video can be more effective. Including subtitles means that if you are talking or the sound is off, a person can still understand the message of the video.  It is important to remember that 80% of consumers note the effectiveness of a How-to video when showcasing a product or service.
Our clients use video not only on their website and social channels but also at trade shows, events and more. We have recently added subtitles to videos for a number of clients inclluding  U-Roast and danceSing. These were effective in not only increasing the views but also the engagement and conversation.
If you are interested in learning more about adding video to your social media campaign, please get in touch with us.
---