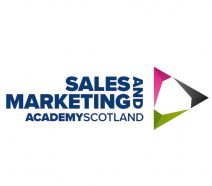 The Sales and Marketing Academy (SMA), launched in January 2017, is Scotland's first academy allowing recently employed graduates to accelerate the speed in which they can make an impact within their sales and marketing roles. Not only can the students gain relevant marketing, branding and sales expertise from specialists Gordon White, (fatBuzz), Claire Kinloch (Genoa Black) and Iain Swanston (Klozers), it provides an excellent networking environment for the graduates to share their work experiences.
It's often difficult for companies to find the time to fully train and coach their new graduate employees in the field. This is where the Sales and Marketing Academy steps in as a source of additional training for graduates, which in turn will help promote a positive impact for their employers as well as increasing their own job satisfaction. Additionally, the programme is free, offering support to businesses in raising the skills of the young people they employ in a sales or marketing role.
Throughout our first two sessions, It was interesting to hear the number of students identifying a common knowledge gap between University and industry, focusing on the practical elements of digital marketing – how to fully optimise digital marketing platforms, encourage inner creativity and expressing new ideas…
The Sales & Marketing Academy has a new intake every quarter with the next cohort due to start on 27th July. If your business is looking to grow and expand please consider hiring an unemployed Graduate and give them and your business a fresh start. Our partners at Scottish Enterprise will be happy to help your business find suitable Graduates via their free Graduate placement service at ScotGrad.