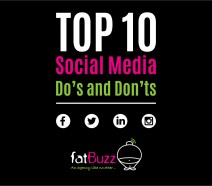 Social media is now the go-to place for customer service, as it takes little effort and often elicits a speedier response than other forms of communication. Whilst this is great news for consumers, and can publicly boost your branding, there's also the potential to get egg on your face if you don't handle things appropriately.
There have been countless examples of this, most recently by the representative of an organisation involved in events/weddings who blasted through the ultimate don'ts of social media management in one evening. If your company has no social media policy in place, now is the time to start, whether you're an established medium sized organisation or a one-man band embarking on entrepreneurship.
Here are our top Do's and Don'ts to get you started:
Do
Have a policy in place
Whether you're completely in control of the social media for your own company, or put it in the hands of one or more staff members, the best way to avoid faux pas or potentially anything worse is to have a standard policy in place. This should cover all the basis sorts of messages and queries you would be likely to receive. This varies from business to business but can include things ranging from 'what time does your store open on Sundays', to 'I'm completely dissatisfied with my product/service, I want to complain to a manager.' It's best here to then draw up some generic responses and give examples of what is acceptable. Again, acceptability will change from business to business, so here is where you draw the lines and make clear what people can and cannot say as your brand on social media.
Be polite
It can be frustrating when people write aggressive or poor taste messages about your business, but it's a bad idea to reply when you're angry. This could result in you sending an equally aggressive message back, or simply behaving in a less than professional way. Remember, manners cost nothing and being polite, courteous and compassionate could help salvage your business relationship.
Take a leaf out of the big brand's books
You don't have to be the likes of Tesco or O2 with a whole social media team to practice good social media service. These brands strike the balance of professional, promotional and humorous, making them largely appealing brands on social media. By having timely responses to general queries, taking the time to engage with or thank those positively mentioning your brand, and dealing with queries and complaints head-on, there's little room left to question the level of service offered.
Think of consequences before you respond
It an immediate world, it becomes natural to respond to notifications as soon as we see them. If you have a policy in place and are just using the designated stock responses, this might not be a problem. However, if you're publicly debating an issue or getting involved in a conversation with customers, it's important to think before you respond, even if it's seemingly innocent or in jest. Be careful not to make claims about rival products or services which could get you into trouble later (see the likes of Dominoes and O2 for how to avoid this), and even if you're only joking, don't deviate from the company line on important issues whether topical or political.
Be consistent
Whilst every customer is different, you should treat the same types of enquiries with the same kind of professionalism and use the same process to resolve. If you have already publicly offered someone a free replacement item after complaining of late or faulty delivery, you should do this again when another similar complaint occurs. When it comes to social media, people can easily find out if you're being inconsistent and that could open up a whole can of worms in the reputation stakes.
Don't
Don't air any dirty laundry in public
This is a general social media rule which many take on a personal level as well as professional. If customers are complaining, it's good practice to acknowledge their issue publicly and reassure you're doing something. However, don't make the ins and outs of their complaint public – take it offline as soon as possible. Whether making use of private messaging or giving them a call, it's always better to resolve away from the public eye, for the sake of your reputation, for possible legalities and of course to make the customer feel as comfortable as possible. Social media is a great way to catch attention and garner an immediate response, but it's not necessarily the way to solve all issues.
Don't swear
You may have a fun and casual company, which is known for its laid-back culture, but please be wary of crossing the line into swearing territory. No matter what your product or service is, or who it refers to, you should refrain from using any colourful language that's likely to offend anyone. Even if a lot of your target audience swear on social media, or even swear at you, resist the temptation to reply in the same manner.
Don't deny any problems
If you're in a service business, the chances are there will be a time when your service goes down or has a glitch. It may not be a common occurrence, and there may be nothing you can do to completely prevent it, but addressing the issue as soon as possible is the best way to move forward. For instance, if you're an internet provider and a mast has gone down in a specific location, address this and let customers know that this is the case, and that you're working on it. This is better than leaving customers in the dark with no faith or reassurance in your brand. It may be worth setting out a generic response in your policy that apologises for the delay/problem, that it's being fixed as we speak and that you'll post an update when everything is up and running again.
Don't respond in a rush
Whilst it's important to be timely and not leave your customers waiting too long for a response, it's equally as bad to respond in a rush. By doing this you could misjudge the point or context of their issue, miss out some vital details in your response, or in the worst case scenario you could end up saying something you regret out of haste or anger.
Don't abandon T&C's
Terms and conditions exist for the benefit of your company and your customers, so you should stick to them at all costs. Running a social media competition or offer? Have clear T&Cs about how to enter and the competition process so there's little room for complaint on the customer's end. However, you'll have to stick to them too, you can't just abandon a promise because few people took part or less interest was shown in the offer than you'd hoped.