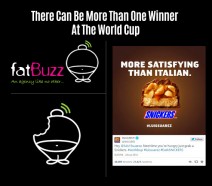 World Cup fever, as well as tennis fever, has gripped the fatBuzz office over the last few weeks. Account Manager, Graeme Geddes, put some time aside from client work to discuss all the opportunities that have arisen, so far, from the tournament.
For the last few weeks we've all be gripped by World Cup fever. Many will argue it's the best there's been for a good number of years. I'm one of them.
But let's put the football to one side for now. There have been endless marketing opportunities made possible by the tournament.
There have been a whole host of talking points which have done the rounds on Facebook and Twitter, with an abundance of World Cup-specific hashtags flying about too.
And speaking of Twitter, there's actually a service the platform introduced for the tournament which allows fans to 'go behind the scenes'.
The service allows users to immerse themselves in the many aspects of the tournament. From seeing pictures from teams and players, to tweets specially about the matches, to live updates on current matches. It's heaven for the the social football fan. For me.
However it's not just on Twitter where the World Cup has got everyone in a frenzy. A couple of my very own clients have launched competitions on their page which are all about the World Cup. Tapping into the hysteria that's ensued since it started way back on June 12.
Casting my net wider, I thought I'd look at some companies that are a bit further afield to see what they're doing during the World Cup.
As I touched on earlier, hashtags have played a huge role, so far, during the tournament. For those clever enough, and quick enough one particular incident gave an incredible marketing opportunity. I am, of course, talking about THAT Luis Suarez moment.
Social media exploded after pictures showed him appearing to bit Italian defender, Giorgio Chiellini.
Soon after a whole host of brands were jumping on the bandwagon, not necessarily to promote a product or service, but more as an exercise in brand awareness; to get their name out there.

One example is a tweet sent by Snickers which poked fun of the incident but also promoted the product. Snickers wasn't alone though. If you click here you'll see some other brands who took advantage of the Suarez incident.
But that isn't where it all ended. In the days that followed a new hashtag was born. #Suarezing. The hashtag would be accompanied by an image of the Twitter used standing next to a Suarez poster to make it look like they were being bitten by the Uruguayan.
As the trend began to spread it seemed the need for a Suarez poster wasn't that important and tweeters were just getting their friends to make it look as if they were biting them instead.
So why am I writing about this? Yes, it's funny but there's a serious point to what I'm trying to say.
The points I've touched on today are excellent examples of how brands have piggybacked on the World Cup and used hashtags to engage with consumers and tap into conversations to help promote their brand and sell products.
But this isn't exclusive to the World Cup. This can be, and should be, done with every major event, whether it's a sporting event, concert, or award ceremony. There are opportunities for you and your brands everywhere. Something I, and my colleagues at fatBuzz, are forever saying to clients.
So has your brand done anything during the World Cup? If so get in touch and tell me about it. Tell what you did and how successful it was. And if you haven't, fear not, there are six more match days for your brand to make an impact.
There are many more events scheduled for this year in Scotland; The Commonwealth Games, Homecoming Scotland, The Ryder Cup Matches, and the referendum are just a few examples.
All of these events offer opportunities for your business to raise awareness and engage with your community. If you would like to discuss potential opportunities please give us a call or drop us an email at hello@fatbuzz.com, we will be delighted to chat over a coffee about how we can help you.