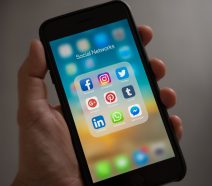 Over the past decade, social media has built an entire digital world where people socialise, discover and consume online. One of the biggest marketing trends this year has been the utilisation of influencer marketing from businesses eager to naturally introduce their brand to a relevant target audience. This form of advertising can gain a significant/unique advantage over your brand's competition. 
For those less familiar with the term, Influencer marketing is when a marketer leverages other people's popularity and credibility to build an audience or sell a product. In the marketing world, it is nothing new, but it is completely revolutionary when it comes to promoting your business online. Teaming your brand up with influential people to launch a marketing campaign or advertise your business and services is now the modern day 'word of mouth' 
Why does it work?
People buy people. People look for people who have the same interests and concerns as them and are more likely to invest and buy from a brand they trust. Psychologists have claimed that when people are repeatedly exposed to something, they will develop a preference for it over time. We are living in a world where 53% of younger generations are active users of Instagram. Generation Z and Millennials are using Instagram at a higher rate than any other generation and are not only ahead of the curve on influencers, but also on overall social media usage. 
We recently saw the undeniable power of the modern-day influencer a couple of months ago, when popular influencer Kylie Jenner tweeted negatively about Snapchat after its massively criticised redesign, and cost the platform a massive £1.3billion drop in market value overnight. Thus goes to show that, essentially, consumers own your brand. If you are portrayed in any negative light from a brand influencer, their following will listen. Although celebrity influencing remains relevant, there has been a significant growth in normal, everyday people with a high social following becoming successful influencers for brands. 
You must recognise your brand's audience, their values and where their interests are and then collaborate with like-minded influencers to authentically bridge the gap between brand and consumer. Influencer marketing does this so successfully as it significantly less intrusive as adverts. Noticing the growth rate of influencer marketing and tracking the statistics can help create a successful influencer campaign for your brand and can have a huge impact on the purchase decisions of your consumers. The top key qualities of a successful influencer are to:
Abide by brand guidelines
Know brand voice and where to use it
Leverage authenticity
Highlight what makes the brand unique
This form of marketing also encourages greater selectivity in targeting specific interests, increases understanding of your brand and demands more thought. Taking advantage of the vast audiences that social influencers have on their platforms is one of the most organic and cost-effective ways to increase your ROI, grow your brand awareness and drive sales for your business. 
The power of the influencer represents both a challenge and opportunity for brands and businesses in today's society and is essential for your brands marketing strategy.  
For more information on how to improve your online branding and social presence, get in touch with us on 0141 427 0727 or drop us an email hello@fatbuzz.com