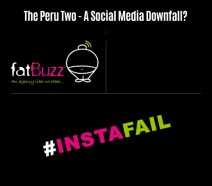 At
fatBuzz
, we like to keep an eye on what's happening, not only in the world of social media, but also the world in general. And when the two combine, it's something that really gets us talking.
Just this weekend, it was reported that alleged Ibiza 'drug mule' Melissa Reid is set to plead guilty after striking a deal that could see her walk free from prison in less than three years.
Reid, along with Michaella McCollum Connolly, was facing up to 25 years' imprisonment after being caught with £1.5 million worth of cocaine in their suitcases at Lima International Airport.
In this blog post, social media account manager, Graeme Geddes, looks at how big a part social media has played in the girls' downfall.
'Having read news reports and watched bulletins on the television of the 'Peru Two', I believe that central to the case being built by the police in Peru are a series of photographs.
'The girls, Melissa Reid and Michaella McCollum Connolly, claim that they met for the first time in Peru, however images of the two together in bikinis would suggest they were, in fact, together in Ibiza.
'With it being winter in Peru just now, would the girls really have been wearing so little clothing?
'Not only that, yet more pictures have emerged. Among these photographs is one of a Nokia mobile phone with the caption 'Wongamaker' on Instagram.
'That particular photo went up before she left her home in Scotland to work on party island Ibiza, so how are the authorities discovering these images? Social media, of course.
'The Peruvian police have been able to simply and effortlessly trawl through a host of images taken by both Reid and McCollum Connolly, which have all be posted on the girls' personal Facebook, Twitter and Instagram accounts.
'And going on what has been widely reported by the media thus far, it would appear these images are going to play an instrumental part in this case.
'Will this be the first time we have really witnessed social media form a huge part of a high profile court case?
'As more of us use social media, we are all beginning to log everything we do, even minor, inconspicuous (at the time) things.
'Not only that, we are increasingly adding locations to our Instagram pictures, our tweets, and our Facebook statuses.
'Everytime we post a picture, even if it is of our dinner, we've leaving a trail of virtual breadcrumbs; perhaps this is something we should all bear in mind and be more wary of?
'Unfortunately for the 'Peru Two', this is something they didn't think of when they were out partying in Ibiza, and it could very well be their downfall if it can be proved their stories are false.
'This is a story that will undoubtedly keep evolving over the coming weeks and months, and one which we will continue to keep a close eye on.'
What are your thoughts on how social media could be logging your every move? And do you have concerns about the privacy offered on social network sites?
Just leave a comment below or get in touch with us on Facebook or Twitter – we would love to hear your thoughts.
If you have found this post interesting please share it with your online community using either the Twitter, Facebook and Share buttons below. Thank you.