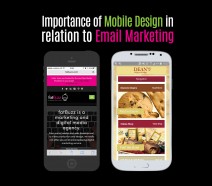 We now live in a mobile world where we are able to do pretty much anything online with just a few taps of our smartphone or tablet. This is why email marketing and the design of such campaigns cannot be ignored in 2016.
Many have predicted the end of the road for email marketing in previous years but the fact is that it's only getting stronger. When you consider that 45% of all email clicks in 2015 were made on mobile, it may make you rethink those email newsletters or flash offers.
In addition, it's predicted that by 2019 there will be 5.2 billion mobile users across the globe – making up more than half the world's population. With this in mind, it's never been a better time to consider vamping up your email campaigns.
Why design is important
Many of us will confess to reading our emails (whether work-related or personal) on our phones during the day, so we can expect the same of our customers or clients. According to the Consumer Views of Email Marketing survey by BlueHornet, 71% of people will immediately delete an email if it does not display correctly. This huge percentage could have a large impact on your click to open, and overall conversion rate of your campaign.
It's not just click rates which are improved by optimising a mobile design for your email communications, as order values have also increased. It's thought that the average order value for mobile grew 28% in 2015, which is double the growth of desktop. Mobile revenue now makes up around a fifth of all email-generated revenue, which could mean a revenue boost or loss depending on how your email marketing campaigns are created and managed.
How to make the most of mobile design
The easiest way to make the most of mobile when planning an email marketing campaign is to create a mobile responsive template. According to the eConsultancy Email Marketing Industry Census in 2015, just over half (52%) of marketers did this last year, meaning that many are still losing out. By simply adjusting the design of your email campaigns, you could boost clicks and sales effortlessly.
To back this up, it's thought that click to open rates are as much as 40% higher for brands that send responsive emails, in comparison to those who don't, which is enough to turn your campaign from mediocre into a success.
Another thing to consider is a mobile friendly landing page. Often emails are sprinkled with links to specific areas of your website or landing pages in relation to the story or offer you are promoting. However, if you don't also think about these external links in terms of mobile, you could be losing out on vital conversions. As much as 75% of UK email marketers use mobile friendly landing pages, proving a tried and trusted way to make the most of your email campaign.
In 2016, mobile email marketing could prove the difference between successful and unsuccessful digital marketing in both B2B and B2C sectors. For more information on email marketing and how you can optimise for mobile, please get in touch.