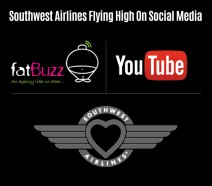 We're forever telling clients, and prospective clients, about the power of social media and the impact it can have on your business.
In the same week we saw an American airline making the news for all the WRONG reasons, we've seen another hit the headlines for the RIGHT ones.
During meetings we regularly say to clients to try and get into the mindset of taking photos and videos in the workplace. When generating content for the likes of Facebook and Twitter, something as simple as a birthday can make for great, engaging content.
Then there are times where we see something which does more than just engage with the public, it also acts (inadvertently) as a sales message.
A video posted to YouTube of a flight attendant for Southwest Airlines falls perfectly into this category.
We've all been there, sitting on the plane waiting patiently, either excited about the holiday we're about to embark on, or shattered from the one we've just enjoyed, for the pilot to get us all up in the air.
This is the time where our safety information is, usually mundanely, recited to us. Couple this with our state of excitement or tiredness, and it's pretty common for us to miss or ignore the safety info. Not on a Southwest flight!
The attendant, whose name at the time or writing is still unknown, turned this 'chore' into a comedy routine. And while she spouted gag after gag, a colleague was ready smartphone in hand, to capture it all on video. Exactly what we tell our clients to do.
We've posted the video at the bottom of this post, so not to ruin it for you we won't touch on every joke, but her routine included lines such as: "Position your seatbelt tight, low and across your hips, like my grandmother wears her support bra", and "If we do make you that nervous in the next hour and half you're more than welcome to step outside. We don't discriminate at Southwest, we have a special smoking area just for you." Brilliant.

So what makes this content good for Southwest Airlines? Just look at the plethora of positive comments about both the attendant and the airline underneath the video on YouTube, with one even saying "I should start flying with Southwest."
This is just one example of how powerful social media, and a bit of imagination, can be for your brand. So what are you waiting for; go get your smartphone and capture all those great moments in your office.
Who knows, our next blog post may just feature you and your great social media marketing offering.