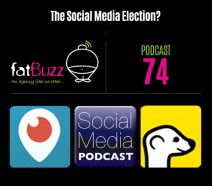 It's all about the election in Social Media Podcast 74 as fatBuzz account managers Liam Cutkelvin, Zara Cameron and Cameron Wilson delve into role social media played in the recent general election, was it the defining moment many had expected or a damp squib?
As always we share and discuss the latest news and stories from the world of social media, including Facebook testing it's own search engine; the latest developments from Meerkat and Periscope; the latest new Instagrammable experience known as foodography; how Dominos plan to take your orders via Twitter and much more
The full podcast notes can be found below, including links to all the relevant articles:
01:04 – Facebook tests it's own search engine.  Further reading…
08:38 – Meerkat goes from Twitter to Facebook to revive its fortunes.  Further reading…  and Further readding…
19:02 – Twitter is allowing you to sign into Periscope without an account with them.  Further reading… 
23:33 – "Foodography"   Further reading…
27:36 – Dominos introducing "Tweet for pizza"
31:36 – Is Uber already harming the traditional taxi?
38:07 – Main Discussion – The Social Media Election?  Some highlights from the election on social media   Figures and insight More stats   A sign of things to come?  Figures from the Guardian
"The Social Media Election that never was"
Play the podcast here…

If you would like to share your thoughts on any of the topics, suggest a topic, or be featured on an upcoming podcast, please get in touch at hello@fatbuzz.com with the topic "Social media podcast". For more updates follow us on Twitter @fatbuzz
You can also reach those on the podcast from the fatBuzz team at:
Gordon – gordon@fatbuzz.com – Twitter @gordonwhite
Liam – liam@fatbuzz.com – Twitter @carmylite
Zara – zara@fatbuzz.com – Twitter @myfascinationzc
Cameron – cameron@fatbuzz.com – Twitter @wildsunn