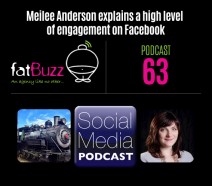 Play the podcast here:
In Social Media Podcast Edition No.63, Gordon White chats to Meilee Anderson, Sales & Marketing Director at the Mt. Rainier Scenic Railroad in Washington. 

Meilee is a regular contributor to the Social Media Podcast who keeps us up to date with social media related news stories from the USA.  We thought it would be good to catch up with Meilee to find out more about her own role.

Mt Rainier Scenic Railroad is a non profit tourist attraction primarily operating in the Spring and Summer with some special events at key times of the year.  One of the things we were keen to discuss with Meilee is the high level of engagement the Facebook page achieves, even when the railroad isn't operating.

During the discussion Meilee is very generous in sharing what she does to engage her fans and how she engages people on Facebook.

However, it's not all about Facebook and Meilee is happy to chat through some of the other things they are doing, these include:
Pinterest and Instagram – Meilee's pleasure at the way these platforms have fitted into her marketing activities
Pete Waterman's London & North Western Railway Heritage Company – Might he make a good guest blogger?
Blogging – The importance of creating a platform you own and control
Influence Marketing – Why Meilee thinks politicians and elected officials may by useful allies
WhatsApp – What's the chat in the USA?
Facebook Reach – Why it's going to get even more challenging to achieve a good reach for your content on Facebook
The Voice USA – How the hit TV show is using Twitter on screen during the show
Some relevant Links:
Mt Rainier Scenic Railroad on Facebook
Mt Rainier Scenic Railroad web site
Meilee Anderson on LinkedIn
Mt Rainier Scenic Railroad on Twitter
Mt Rainer Scenic Railroad on Instagram
Mt Rainier Scenic Railroad on Pinterest

We hope you enjoy the podcast, please also share it with your friends and colleagues, you can do so using the share buttons at the top of bottom of this post.

We would also like you to Like the Mt Rainier Scenic Railroad Facebook page where you can track the progress of what Meilee is doing to engage fans and build a relevant community. Visit the Facebook page
Play the podcast here:
Would you like a presentation on social media and customer service?
We're offering a range of bespoke or generic presentations on the topic of social media and customer service, if you would like to find out more please go to the following link: Are you prepared to lose control?
Have you listened to the digital copyright podcast?
We continue to see people using images, video content and other files taken from the internet without consideration to potential copyright issues. We would encourage all of our listeners to download Social Media Podcast 50 which clearly outlines what you should and shouldn't do with images sourced online. Find it on iTunes now.

WHAT WOULD YOU LIKE US TO TALK ABOUT?
If there is a specific topic you would like us to cover in a future podcast please let us know. You can email gordon@fatbuzz.com or send us a message on Twitter @MediaPodcast or, you can post it as a comment on the Social Media Podcast Facebook page.