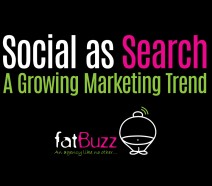 Over the past year or so, the biggest social media platforms have certainly upped their game when it comes to search functions. Both Facebook and Twitter made changes to this in 2015, making it easier for users to find content relevant to their needs and interests.
With more sophisticated search functions, more and more people are now using social media as their go-to for information on a product. Could this soon rival search engine? Probably not any time soon, but it is certainly something marketers can take advantage of as this emerging marketing trend continues to grow.
Brand visibility
Like with Google and SEO on your site, the aim of the game is making your brand more visible, so that people can easily find you or your posts on social media. Whilst the easiest way to do this is still to have the most relevant Twitter handle or Facebook page name possible, there are other things you can do to ensure you become visible when potential customers or clients are searching.
Your handle is personal to your business, so people will find you if they look directly for you. However, in order to appeal to those who don't know about you yet, you'll need to include some catchy phrases in your Twitter bio (and a hashtag if you like), and ensure you're posting those vital key phrases and hashtags regularly to be recognised as an authority in the field.
Facebook updated its search function in the last quarter of 2015, in a bid to rival the facilities offered by Twitter and Google. By allowing many of its posts to become searchable (only if their privacy setting is public) in addition to users, pages, groups and apps, the social network has essentially similar capabilities as Google, but only sources information from within the network itself. So essentially you'll want to make sure you're posting status updates, blog links, videos and more which detail relevant trending keywords, whilst utilising search phrases you want to be associated with.
Searching on Social
In addition to ensuring your brand is sending out the correct messages in order to be easily found, you can also use the search function to your advantage when it comes to market research and client data.
There's a wealth of information about your current audience market on Facebook and Twitter, not to mention access to more about the market you'd like to target. By using the functionality in the way you'd want others to find you, you can tap into all sorts of users based on interests, not to mention keep up to speed on current market news and trends. Find out how your ideal user base interacts with certain social platforms, how they engage with similar businesses and how you could become more appealing to them.
As the year goes on, big social players will only find ways to improve the functionality and usability of these search options. So far in 2016, Instagram has already updated its search function to offer more information, and there's no doubt Twitter and Facebook will try to hone their already vast search capabilities.
Ensure your brand is visible and make the most of invaluable information about your target and current audience markets. For more information on how to improve your online branding and social presence, give us a call today on 0141 427 0727 or drop us an email hello@fatbuzz.com