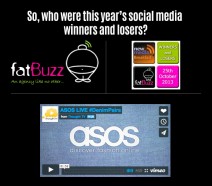 For those who were unable to attend Friday's New Media Breakfast at 29 Private Members Club, you missed a hugely interesting, and at times extremely humorous event.

The topic of Friday's breakfast, 'Social Media Winners and Losers', was to look at a broad range of successful (and less successful) social media campaigns and explore what we can learn from them.

In front of a healthy crowd, complete with a welcome number of new faces, Gordon started off proceedings with Dove's Real Beauty Sketches campaign.

Dove decided to conduct a 'compelling social experiment that explores how women view their own beauty in contrast to what others see'. The resulting video, which you can view below, has, thus far, amassed over 56 million on views on YouTube.
As one of our attendees, Thea Newcombe said, this emotive campaign was definitely a social media winner.
As well as Dove, Gordon focused his attention on Asos's brilliant #DenimPairs campaign.
Essentially, this live, interactive Twitter campaign encouraged people to tweet in two numbers, and if they matched up the pictures on the cards, they could win their perfect pair of jeans


As the video below explains, Asos trended worldwide after just 11 minutes, and then for the duration of the competition. 5,971 tweets used the hashtag during the 32 minutes that the activity ran, with 2,362 unique users.
Of course, we haven't got the time, or space, to fit all of Gordon's presentation into one blog post, but here are some highlights (or perhaps lowlights?) of this year's social media losers.

After British Gas announced a £120 increase to annual energy bills, some wisecrack in the marketing department decided it would be a good idea to launch a question and answer session on Twitter.
Unsurprisingly, the questions, some of which you can see below, weren't quite what British Gas was expecting.
The biggest laugh of the morning came when Gordon discussed Conservative MP Gavin Barwell's Twitter gaffe.

The Croydon Central MP was left red-faced after a plan to expose Labour for making money off a 'date Arab girls' link backfired and revealed it was actually a targeted advert for his computer!
Of course, these are just a select few of Friday's winners and losers. Gordon also discussed IRN-BRU's 'fanny' advert (which was launched by a randomly selected follower with just 329 followers), Tennent's Lager's SelfTie campaign, Tesco's 'hit the hay' storm, and Belvedere's questionable advert.

As always, we hope you enjoyed Friday's breakfast, and hope that you can adapt some of these examples and make it work for your business.

Remember, as Gordon explained, we can learn as much from the social media losers as we can from the winners, and identify what not to do.

Do you have a social media success story that you would like to share with us? Or is there a particular social media failure that we didn't touch on?

If so, leave a comment on the blog, or get in touch with us on Facebook or Twitter.

If you want to come along to the November New Media Breakfast, and receive some Christmas tips from Craig McGill, you can click HERE to find out more.