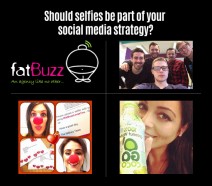 The humble selfie, the act of photographing yourself, typically with a smartphone and uploaded to a social media website, has never been more in vogue.

Named as word of the year by Oxford Dictionaries in 2013, selfies hit the headlines earlier this month after Oscars host Ellen DeGeneres' became the most retweeted photograph ever.

However, over the last few days, you will undoubtedly have seen more selfies than ever appearing on Facebook, Twitter and Instagram.

That's because social media users have been posting 'no makeup' selfies, along with the hashtag #nomakeupselfie, provoking an 'impromptu fundraising campaign'.

Now, whether or not the trend is truly about raising awareness, or if it is indeed vanity thinly veiled as philanthropy, there can be no doubt that it has had a significant effect; cancer charities have seen a surge of donations as a direct result of the campaign.

But it's not just charities who can benefit from selfies; many companies, large and small, can do so too.

We have previously discussed Dove's social media experiments on the fatBuzz blog, and in 2013, they embraced the selfie as part of its #BeautyIs campaign. The video, which you can view below, aimed to explore how social media is shaping the way the we perceive beauty.
Perhaps one of the biggest selfie success stories was when South African retailer, Urban Hilton Weiner, gave visitors to their store a $10 coupon if they tweeted a selfie of themselves trying on some clothes and used the hashtag #urbanselfie.

Closer to home, Tennent's Lager's SelfTie campaign encouraged users to take pictures of themselves with their favourite red T and share it with Tennent's for the chance to win a VIP trip to Wellpark Brewery or an iPad Mini.
One of our clients, Go Coco, regularly invites its fans to upload selfies using the hashtag #GoCocoSelfie or #GoCocoNuts, while we even got in on the act, sending our clients a Valentine's Day red nose (as opposed to a red rose…), before asking them to upload their selfie online using the hashtag #fatBuzzLovesYou.
So, how can selfies actually help your business? And should they be part of your social media strategy?

Well, encouraging fan engagement is, or at least it should be, one of the most important aspects of social media marketing.

And with Facebook's reach decreasing almost daily, why not take this simple opportunity to raise awareness, and importantly, increase the reach of your brand, by encouraging your community to upload photos with your product?

By encouraging your community to promote your brand or organisation via the simple mechanism of uploading selfies, you will increase engagement, and maintain your fan base. But not only that, with the average adult Facebook user having 338 friends, embracing the selfie revolution could help you spread your message, and in turn your brand, even further.

What are your thoughts on selfies? Have you ever considered encouraging your community to upload them in order to raise awareness of your business? Let us know by commenting below, or by getting in touch on Facebook or Twitter; even better, send us a selfie!
If you have found this post interesting please share it with your online community using either the Twitter, Facebook and Share buttons below. Thank you.