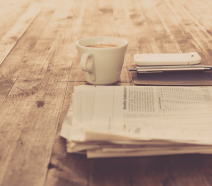 Here's a little round up of some of September's industry news…

Diet Coke's 'You do you' campaign
Diet Coke launched their new ad campaign 'You Do You' at the start of September. The campaign includes two new tv adverts with two pensioners talking to men on dating app 'twinge' which bears a resemblance to Tinder using cultural slang such as 'total playa' and noting that they are not "looking for long-term' am I babes". The campaign is accompanied by the launch of eight new limited edition can designs exclusively in the UK that feature modern-day phrases like 'it's lit' and 'okay, next.'
Thomas Cook… destined to fail?
One of the most memorable and tragic stories from September is the fall of the long-established British travel brand, Thomas Cook. When the news broke, Thomas Cook turned to investors and banks in hope of saving some 21,000 staff with little success. Some may argue that the brands shortage of resources was not the main reason for its downfall, but instead is down to a rebrand in 2013. Following the rebrand, the brand identity suffered in the minds of consumers. Data showed that the brand had not identified a competitive edge and as a result had lost relevance in an increasingly competitive marketplace.
Make or 'break'?
Here's something you probably never thought you would hear. The confectionary giant Nestle is rolling out a £14 luxury handcrafted eight finger custom KitKat. That's right – that break time snack is now going to be available in 1500 flavour combinations and can be ordered from the Nestle website or at pop-up shops within 30 John Lewis stores nationwide in the run up to Christmas. Fans of the eight-finger snack will be able to create their own customised KitKat by choosing the flavour and the packaging. The 'create your break' option offers almost 1500 different flavour combos including Cherry Bakewell and Gin and Tonic, to name a few. In Japan, KitKat is already considered a premium product and is often given as a gift. So what do we think… will it make it or break it?
Seasonality adjustments now available on Google Ads
Google's latest seasonality adjustment is now live for Search and Display campaigns and will be available for shopping campaigns later this year. Machine learning algorithms often don't respond quickly enough to sharp changes in conversion rates and by the time the system catches up, your promotion may be over. With the new seasonality adjustment feature, advertisers can inform Google's bidding systems of expected conversion rate changes during special promotions, product launches or more nuanced seasonal pickups and lulls specific to their businesses. With seasonality scheduling, the system will adjust based on your estimated conversion rate change and then revert back without the need for a ramp down – ideal for short-term promotions.