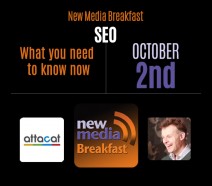 DATE: Friday 2nd October 2015
TIME: 7.45am for 8.00am
VENUE: 29 Member's Club, Royal Exchange Square, Glasgow
Like all things digital, SEO is changing all the time; rules that applied a few short months ago no longer apply, new preferences have taken their place and the changing nature of website optimisation continues. Many things will influence these changes, Google will play a part, however their decisions are largely based on consumer trends, habits, and the way we now consume content.
It is important to not only know about the changes, but to be able to act on them quickly if you are to stay ahead of the game, especially in an increasingly competitive environment.
In this New Media Breakfast Tim Barlow from Attacat will outline the current state of search engine optimisation and highlight where we should be focusing our attention and our budgets.
He will look at strategies and tactics that have had their day as well as looking at those that continue to work and are likely to do so for a long time to come.  The overall objective will be to help you understand what role SEO should be playing in your marketing mix and how to get the best return from the time and money you put into seeking to rank.
SPEAKER
Tim Barlow is managing director and founder of Attacat, an online marketing agency in Edinburgh that is well renowned for helping innovative companies drive sales from search engines.  Tim has guided the New Media Breakfast audience through the maze of search engine marketing over the last 6 years, so we are delighted to welcome him back in 2015.
Tim has long advocated a "No short-cuts" approach to SEO – a strategy that is repeatedly shown to be valid as Google and other search engines continue to take action against those that seek to flout the "rules".
HOW TO BOOK
Venue: 29 Member's Club, Royal Exchange Square, Glasgow
Date: Friday, 2nd October 2015
Time: 7.30am for 8am
Cost: £10 +VAT
BOOK FOR NEW MEDIA BREAKFAST GLASGOW HERE:

If you are a 29 Member you can attend the breakfast free of charge. Please email 
fiona@fatbuzz.com
 with you membership number and she will add you to the attendance list.
We hope you can make it along to this event. If so, I look forward to seeing you on the day.