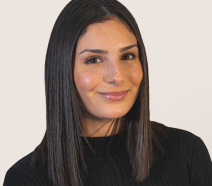 Hey Kenza, introduce yourself…
As an International Business and Marketing student, I am ending my Bachelor's Degree with an internship here at fatBuzz. This internship is the last step before I graduate!
What does your new role at fatBuzz involve?
As a Marketing Intern here at fatBuzz, I am eager to learn from everyone and work with companies on their marketing and content strategies. I am also interested in video editing and graphic design so I am hoping to observe and maybe learn a few things about this process as well!
What is it about marketing & design that interests you?
I love the creative side of marketing and the endless possibilities created by the digital age! As an avid user of social media, I am interested in what really goes on behind social media campaigns, content creation, brand design, and everything that makes me and so many others click and interact with brands every day.
What brand do you love, and why?
I am passionate about the film and entertainment industry. Netflix has become one of the brands I absolutely love, by providing content for me to enjoy. Besides updating their catalogue and releasing shows and movies like clockwork, what I really love about Netflix is the way they handle their social media, especially their Twitter account. The way they interact with people, in a light, funny and helpful way has really given me a positive image of Netflix and who they are as a brand. Also, who doesn't appreciate a good old, well-seasoned sarcastic response?
What has been one of your biggest challenges, and why?
I had the chance to study abroad for a whole year and went to the US. As much as it was an amazing opportunity and is to this day the best experience of my life, it was a real challenge as making friends was not easy. The difference of culture played a big role in that, so understanding and adapting to the culture was a big challenge, especially for such a long period of time.
What are you most looking forward to during your time with fatBuzz?
This internship is the last step before I graduate and is therefore a valuable experience in the working world and for my future career, which is why I am really happy to work at fatBuzz as tasks always vary and everyone at the office has been so welcoming!
Do you have any hidden talents?
I can cry on cue. I guess that qualifies as a hidden talent?!