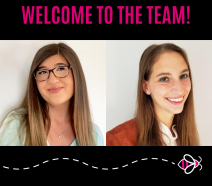 In the past few weeks, we've been delighted to welcome aboard 2 new members to the fatBuzz team.
Introducing… Annabel Barrie and Brittany Ritell!
Both will be working closely with the Marketing team, with Annabel taking on the role of Community Management Assistant and Brittany joining us as a Marketing and SEO Assistant.
Having now settled in to their respective roles, we thought it would be good for them to give a short introduction on their background and how they've found working at fatBuzz so far:
"Hi, my name's Annabel and I am the Community Management Assistant. Starting work at fatBuzz is my first introduction to the workplace after graduating from the University of St Andrews where I studied Psychology."
What does your role involve?
As the community management assistant, I work closely with the marketing team. This includes liaising with the clients and their customers to ensure that their customer service is upheld to excellent standards. I also help them make the most of the digital channels available to manage their online communities.
What has it been like starting a new job remotely?
Under normal circumstances, I would have been walking into a new building, getting the office tour, shaking hands and spending lunch breaks socialising with new people. Instead, I met the team on Zoom from my own home, however this doesn't mean I wasn't nervous and excited all the same! There was no need for the nerves, everyone in the team has been so welcoming.
Every morning, we have a staff meeting where everyone checks in with each other and it genuinely feels as though I've personally met them. Last week, we had a really nice end to the week with a staff quiz which was a great way to be with everyone in an informal setting.
Why did you choose to go into the marketing/advertising sector?
My interest in media and advertising stems from solvable hearing issues where the importance of vision and language has been highlighted to me from a very young age. Furthermore, the explosion of social media in the last 10 years has been one of the most monumental social changes in the 21st century – word of the mouth is no longer just saying to one friend in a bar, but to virtually everyone you know from just one tweet or post.
I am very excited to see just what happens in the next 10 years and be a part of this industry.
What brand do you love and why?
A brand that I love is Irn-Bru because of its quirky and innovative advertising which projects itself as being slightly rude and has made a virtue of being a sugary 'anti-hangover' drink. Recently, by reintroducing its sugar-laden original formula, it pitted itself against todays current politically correct environment.
It also has a loyal customer base despite not having a recognized logo, however its distinctive colour alone highlights just how clever the branding is.
What are you most looking forward to during your time at fatbuzz?
First and foremost, I am most looking forward to actually meeting the rest of the team in real life! I am also looking forward to being in a workplace environment, gaining first-hand experience and knowledge from the fatBuzz team and of course getting to work with a wide variety of clients.
---
"Hi, I'm Brittany and I've just started as a Marketing and SEO assistant at fatBuzz, having recently completed my Masters in Digital Marketing Management."
What does your role involve?
I assist the account managers on tasks for clients such as developing social media strategies and content calendars, SEO reports and audits, as well as creating blog content for fatBuzz itself! It's a very varied role and what I work on will depend on what clients need.
What has it been like starting a new job remotely?
I love that fatBuzz had a different team member teach me each platform we use, that way I had a chance to meet everyone, even if only virtually. It was a bit like trying to do classes remotely all over again though! They also did a whole staff quiz at the end of my first week which was a fun way to get to know the team.
I'm really looking forward to meeting everyone in person when we get back to the office!
What are you most looking forward to during your time at fatBuzz?
Office dogs and book club. I mean honestly, if I dreamed up a perfect workplace for myself, both of these would essentials.
Why did you choose to go into the marketing/advertising sector?
I've always loved writing and wanted a career that would allow me to do that creatively but also offer a bit more stability than being a novelist (I'd still love to write a book someday though). Marketing seemed like the perfect solution and it's why I'm especially drawn to content writing.
What brand do you love and why?
I have a list of favourite brands, each one for different reasons but a few of the names included are: Ben and Jerry's, Pixar, Innocent Smoothies and Lego. I love the loud activism of Ben and Jerry's, the focus on creativity and children from Pixar and Lego, and the brilliant humour from Innocent.
---
We'd like to extend a warm welcome again to both Annabel and Brittany and we are excited to have them on the team!