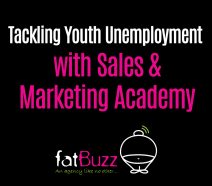 fatBuzz is pleased to announce our involvement in Scotland's first sales and marketing academy. This initiative, co-founded alongside Klozers and Genoa Black, aims to tackle youth unemployment in Scotland.
Gordon White, managing director at fatBuzz, will head up the academy alongside Geona Black mananaging director Claire Kinloch and Klozers director Iain Swanston, which will train 100 graduates each year. The first programme is due to launch in January 2017, and will offer graduates the opportunity to gain first-hand advice and training across a range of topics within the marketing sector.
The programme is free, offering support to businesses in raising the skills of young people in marketing. The course itself is designed to complement in-house working, meaning that graduates can progress their skills at a faster speed whilst gaining valuable on-job insight and experience. Training sessions will take place at RBS's facilities at their St Vincent Street building in Glasgow.
"Sales and marketing is a pivotal role in any organisation, so we are delighted to be able to help graduates onto a career path within this industry. We are looking forward to beginning the first course, sharing our knowledge and expertise with the next generation of marketers." – Gordon White
Qualifying requirements
The course is open to any business north of the border, and is run in conjunction with the Scottish Enterprise ScotGrad programme. Graduates can apply at any time, with 4 enrollment intakes throughout the year.
Employers and graduates are advised to visit the ScotGrad website for more on eligibility.The official launch and first in-take of the Academy will take place on the 26th January 2017 at the Royal Bank of Scotland, St Vincent Street, Glasgow.