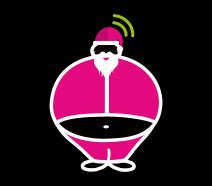 According to Yesmail Interactive, 69.8% of consumers start their Christmas shopping before December 1st. The majority of people tend to start their shopping in November (around 37%), and with sales events like Black Friday and Cyber Monday falling in November, this is a key month for Christmas marketing campaigns. Is your business ready for Christmas 2018?
The countdown to Christmas (yes, we are discussing the C word already) has officially begun (only 3 pay days left!) and it's time to get your festive marketing strategy in place early, to ensure your campaigns are merry and bright.
Christmas means different things for different organisations; if you are in the B2C sector, it's a serious time to generate revenue, however if you are in the B2B sector it is perhaps a time to be a little less formal than normal, and for the charity sector it's a great time to encourage support during the season of goodwill.
Regardless of sector, Christmas is an excellent time to engage with customers and clients, however it is also an extremely 'loud' period which makes it difficult to make yourself heard.  Innovative campaigns and relevant content will help massively in enabling you to reach your target audience.
Here at Fatbuzz, we know just how important the festive period is to our clients, and what can be achieved in the lead up to Christmas. Below are just some examples of the things we can do for you this Christmas:
Christmas Promotions
If you are looking to push sales this Christmas, then why not think about promotions that tie in with the time of year, and also align with your brand. This can include online and offline promo codes & discounts, Black Friday events, email-only promotions and more.
Our approach involves proposing and discussing promotion ideas before aligning promotions across social media, in-store, website, emails and blogs in order to fortify the offer.
Why not take a look at the 12 Days of Coffee campaign we implemented for Italian Aroma Coffee last year? Here they rewarded loyal clients for their efforts over the year with some festive treats.

Giving Back To Customers
Why not look into giving something back to your customers? This could be anything such as a discount on their next order, free delivery or even providing a Christmas wrapping service. Adding value to your offering – especially around Christmas time – can ensure you stand out against the competition.

Get into the Christmas Spirit
You don't have to go daft with discounts or over-indulge in email automation to get into the Christmas spirit. We can help you make subtle, Christmassy changes, such as a festive version of your brands logo, or adding a seasonal theme to the regular outgoing marketing collateral, like your email newsletter or general social media posts. As long as it does not take away from your brand values, it's usually something customers find endearing.
If you want to get right into the Christmas spirit, why not follow in the footsteps of our clients such as Excel Vending and Curtis Moore, who have enjoyed making Christmas team videos during the festive period.

Christmas advertising on social media
Increasingly, Facebook and Instagram are becoming pay to play arenas. At a time when many B2C businesses are competing for sales and trying to smash their own sales targets, adverts are an essential part of the Christmas marketing strategy.
We can create an advertising plan encompassing various audiences, products and timescales across a series of ads. From advert idea to design, implementation, budget management and monitoring ROI, we take care of all aspects of social advertising, ensuring you meet those Christmas and end-of-year objectives.
Christmas email marketing strategy
Email marketing is the perfect tool for the festive period; allowing for time and date limited offers, the introduction of more information about products and your business in general, and the chance to send out money saving incentives.
The festive period sees huge amounts of emails arriving in inboxes, which is why we suggest planning a carefully-curated email marketing strategy in advance. Incorporating things like automation to make the most of new customers and abandoned carts, carefully targeted emails to certain list segments and analysis of open rates, can really improve your sales and client or customer engagement over this period.

It's Not All About Sales
There's so much more to the festive season than boosting sales. Traditionally seen as the season of goodwill, many businesses can use this opportunity to give back to the community, support a charity or take part in a seasonal-themed fundraising event.
You can still take advantage of the season and send e-cards and well-wishes to your clients and customers. Or you could simply spread the message around your seasonal opening ours, order/delivery processes if necessary, and plans for the coming year. Christmas can be a time to reinforce your brand strength and to build customer loyalty, whether or not you focus on sales over this period.
To make the most of the seasonal spend, we would advise finalising your Christmas marketing strategy in late August – early September, so your campaigns are underway no later than October 1st.
Still in summer mode and haven't thought about Christmas marketing campaigns yet? Don't worry, our bells are jingling early! Get in touch by calling 0141 427 0727 or dropping us an email hello@fatbuzz.com