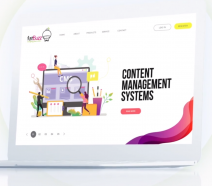 We're back with another Quick Buzz from our team! Taking this week's video is Maxine, one of our Web Developers, who discusses Content Management Systems (CMS).
If you're new to web development or know nothing about coding, a CMS like WordPress makes it quick and easy to set up a website using a template design, several integrated features and an intuitive use interface.
For experienced developers, a CMS gives access the best of both worlds, combining user-friendly features with the ability to add custom code and new dynamic elements, making it even quicker to set up unique websites and easier to carry out ongoing maintenance and add content.
Watch Maxine's Quick Buzz below to learn more about the possibilities of using a CMS:
If you're looking to create a stunning, dynamic website for your business, find out more about Web Design & Development services available with fatBuzz.
Make sure to keep updated with all of our new Quick Buzz videos and updates on the New Media Breakfast by subscribing to our mailing list.