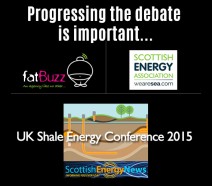 Why fatBuzz is sponsoring the Shale Energy Conference 2015
Earlier this month we announced that fatBuzz would be the title sponsor of the upcoming UK Shale Energy Conference. As we look ahead to the event on Friday 25th September, we feel it is important to outline our reasons behind sponsoring the event, and to reinforce our stance on this hotly contested issue within the energy industry.
When we were approached about sponsorship of the conference, we saw this as a great opportunity to support a client, the Scottish Energy Association, and to get involved with a key issue in the UK energy industry by helping to facilitate the debate about shale energy.  This is an opportunity to get involved with an event which looks to engage both sides and not promote one over the other, this is important to us.
Like many others, we cannot claim to be experts on the subject, however we are aware of the controversy and urgency around shale energy. This conference is the perfect opportunity to come along and hear the facts from the experts themselves.
It is vitally important in any industry that key issues are discussed and presented to the public in a balanced manner, only then will you be equipped to make an informed decision on where you stand on the issue.
Of course, we are no different, and realise that the issue of shale energy is one which has passionate arguments both for and against. In sponsoring this event we can help provide the platform the topic requires to be discussed properly. The UK Shale Energy Conference is not aligned to either side of the debate, instead it is committed to hearing from both sides.
It is also worth noting this conference is open to the public and not only industry members, so if you do have an interest in shale energy, or simply want to hear the debate, please visit here for more information on how you can join in.
With less than a month to go, we look forward to what promises to be a fascinating debate on what is a prominent, and important, issue within the energy industry in our country.