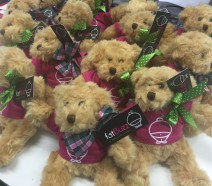 When we dreamt up the idea of #fatbuzz29, we hoped to raise money through our clients, all in aid of Kilbryde Hospice. The way we intended to raise funds was by asking our clients to donate £29 in return for the adoption of a fatBuzz bear and a visit from us on the 29th of February, as we donate our extra day of the year to this cause. We hoped to garner the attention of at least 29 of our clients, creating 29 for 29 on 29.
We could not have predicted the overwhelming response from our very generous clients – least of all Phoenix Car. John McGuire and the team at Phoenix so kindly donated £1,000 on our JustGiving page, getting us off to a flyer. When originally making a suggestion of £29 in return for a bear, we suddenly panicked that we may not have enough to go around!
However, Phoenix Car have been happy to support our cause and event, and were glad to see the cash go to a worthy cause regardless of the fatBuzz bear. We are so appreciative of the generous donation awarded by Phoenix, and are sure Kilbryde Hospice will benefit tremendously from this sum. If you're not sure what the Kilbryde Hospice charity is all about, you can read our blog on the facility, and why we chose this as the recipient of our #fatbuzz29 donations.
With the event now under a week away, the fatBuzz teddies have been flooding in, ready for their missions on 29th February. Today, the full squad for Phoenix Car were lined up and ready to go. With 14 bears ready to take on a #fatbuzz29 challenge at 14 separate Phoenix locations on Monday, things are really starting to heat up. We're thankful to Phoenix Car for supporting our cause and putting 14 of our bears into employment. We hope they have a safe travel to their destination and can't wait to see what they get up to.
If you would like to make a donation to our 29 for 29 on 29 event and raise funds for Kilbryde Hospice whilst claiming your very own fatBuzz bear, you can do so here.