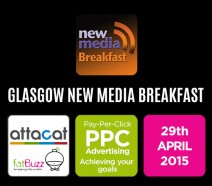 Pay-Per-Click Advertising (PPC)
Achieving your goals
DATE: 29th April 2016
TIME: 7.30am for 8am
VENUE: 29 Member's Club, Royal Exchange Square, Glasgow
Pay-per–click advertising (PPC) has a key role to play in almost any marketing strategy.  It may have been around for almost 20 years, but the rate of innovation (and therefore the opportunities) within PPC is higher than it has ever been.
It's long been used to promote your products and services but increasingly it is also being used to promote your content.  Although search engine PPC (such as Google AdWords) remains the powerhouse, the model has also successfully transitioned over to social platforms such as Facebook and Twitter where increasingly we need to pay to get our content noticed.
We also shouldn't forget the effectiveness of remarketing through all of these networks too, often also paid for on a pay-per-click basis.
PPC remains one of the most effective and flexible forms of advertising; it can drive very relevant people to your website right at the point they are in buying mode.   For many it is the very first port of call for those transitioning their marketing to "digital".   It's also fair to say that because of the ease with which you can use PPC advertising, it has turned all of us into media buyers – but are we getting the most from the budgets we commit to online advertising?
The April New Media Breakfast will look at the different options available to advertisers, and how we should be approaching the whole topic of advertising online.  We will highlight the need for a PPC strategy that will ensure you get the best return from your investment. We will also outline some of the things you need to consider when establishing your PPC strategy.
Using practical examples, we will demonstrate the real power of PPC advertising, and where relevant, we will point out some of the common pitfalls that cause advertisers to waste budget or fail to meet expectations.
WHO SHOULD ATTEND?
If you are already using PPC, or you want to increase the exposure of your content, product or service, you should come along to the April New Media Breakfast to hear first-hand from the experts about how to achieve you future goals.
SPEAKER
Tim Barlow is managing director and founder of Attacat, an online marketing agency in Edinburgh that is well renowned for helping innovative companies drive sales from search engines.  Tim has guided the New Media Breakfast audience through the maze of search engine marketing over the last 6 years, so we are delighted to welcome him back in 2016.
HOW TO BOOK
Venue: 29 Member's Club, Royal Exchange Square, Glasgow
Date: Friday 29th April 2016
Time: 7.30am for 8am
Cost: £10+VAT
BOOK FOR NEW MEDIA BREAKFAST GLASGOW HERE:

If you are a 29 Member you can attend the breakfast free of charge. Please email 
fiona@fatbuzz.com
 with you membership number and she will add you to the attendance list.
We hope you can make it along to this event. If so, I look forward to seeing you on the day.