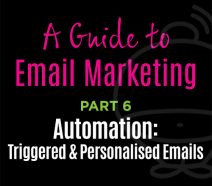 Automation – Triggered and Personalised Emails
Automation is the clever part of Email Marketing and the options for automation are increasing every day.  And, personalisation options are making it easy to make your emails extremely personal.  For example, MailChimp now enables you to put your subscribers name into the body content of your email.  You should explore what personalisation options are available from your ESP and make use of them whenever you can.  Personalised emails do achieve higher click-through rates.
Triggered, or 'transactional', emails achieve up to 8x more opens and clicks than any other type of email.  These are emails that are triggered by a particular action.  The auto-responder emails detailed in post No 4 are a good example of triggered emails that are triggered to send when someone subscribes to your mailing list.
Experian research suggests that triggered emails generate 6x more revenue, and eMarketer research indicates that B2C marketers who leverage automation have seen conversion rates as high as 50%.  You must explore the automation options provided by your ESP and make use of the ones that are relevant to your business, and your subscribers.
Below are some of the automation options available from MailChimp, you will probably find the other main providers will offer similar options.
Ecommerce
Specific product follow-up: – Request a review after someone has purchased a specific product.
Category follow-up: – Promote related items when someone buys from a specific category.
Best customers: – Reward your best customers with sale announcements or special discount vouchers.
Abandoned carts: –

Encourage customers to complete their purchase if they leave items in their cart. Research shows that this can result in capturing in excess of 20% of the sales that are not initially completed.
Nonprofit
Top supporters: – Acknowledge your most generous donors with a special message or gift.
Membership renewal: – Send a membership renewal reminder based on the donor's last contribution, or when they joined your list.
Event: – Announce a volunteer opportunity or fundraising event, and invite supporters to get involved.
Education
New student orientation: – Welcome new students and share resources to help them get started.
Course series: – Educate students through a series of lessons, assignments, and projects.
Student re-engagement: – Re-engage students when new course offerings, study tips, and enrolment discounts.
Music
Download follow-up: – Send a follow-up message after a listener purchases music from your store.
Fan orientation – Band: – Invite new fans to your social networks, share band news, or offer free discounts
Fan orientation – Record Label: – Welcome fans, introduce them to artists on your label, or offer free downloads
Event follow-up: – Follow-up with fans after a live event.
Software
Product feature engagement: – Support your current users by announcing product updated and new features
User on boarding: – Share tips and resources to help new users become experts with your product.
Pre-launch series: – engage your users with new product information, features, and release dates.
White paper download: – Send a download link to your product white paper when a user visits your webpage.
Date Based
List added date: – Send an email based on when a subscriber joined your list.
Recurring dates: – Each year, send an email based on a subscriber's list field date.
Birthdays: – Send subscribers a special birthday message or message series based on their birthday list field.
Specific date: – Send a one-time email to subscribers based on a specific list field date.
As well as this selection of options that are made very easy for you, there is also the option to create a custom series that fits your unique business needs with a custom workflow.  It really is worth exploring the options, many of which will not only improve your engagement, but could also save you time.
Finally, there are many integration options to enable your Customer Relationship Management system (CRM) to talk to your mailing lists.  Likewise, you can integrate your lists with many ecommerce websites like Shopify, and WooCommerce, or payment platforms like PayPal.  Only by exploring the options will you be able to devise a plan that is tailored to your business needs.
Choose your ESP
It is important to realise that I have no allegiance to MailChimp, nor am I receiving any reward for mentioning them in this series of emails, I simply use them as an example because this is the platform with which I am most familiar.
I have looked at other platforms, namely Constant Contact, MailJet, Campaign Monitor, and Active Campaign, all of these providers offer similar functionality to MailChimp and are worthy of consideration. Once again, I would suggest you review the UK PC Mag only article about the best email Service Providers here.
Series Summary
I trust you have found this series of posts on Email Marketing useful and interesting. I'd be happy to answer any questions you may have, simply email me at gordon@fatbuzz.com and I will get back to you as quickly as possible.
To summarise what we have explored, I will finish with the following bullet points that will help to make your database work well for you:
Create a lead acquisition budget

Create good sign-up forms and landing pages

Actively promote your sign-up forms – online and offline

Split test on a regular basis

Develop subscriber personas

Maintain an engaging content plan targeted at your subscriber personas

Pay attention to the reports

Make use of Email Automation
And most important of all, develop a formal Email Marketing Strategy.
If you have found this post interesting, please use the social share buttons on the page to share it with your online community, there's a good chance that others in your community will find it interesting too.  Thank you. 
Previous posts:
Author: Gordon White