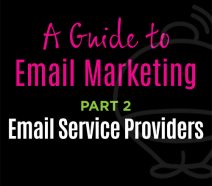 Email Service Providers
You will need an Email Service Provider (ESP) in order to send bulk emails and it is important to choose one that meets your needs now and in the future.  Changing your provider can be problematic, so it is better to do your research and settle on a provider that is likely to be able to manage your email marketing requirements in the long-term.
Speak to 5 different experts and you'll probably get 5 different recommendations for your perfect ESP, it really does often come down to the personal preference of the person that you ask.  The reality is, the better Email Service Providers all provide a similar service and will most likely fulfil your short, mid and long-term objectives.  But, it is worth doing some research, particularly around the functionality and the cost of the service.
As a starting point, you should visit PC Mag's review of Email Service Providers – you can find it here.  This is a useful summary of the main service providers and the functionality they offer.  Also, click on the links at the bottom of each column and you can read a review of the service.
From a personal point of view, I prefer MailChimp, although I do use other providers in the course of my work.
Regardless of the provider you choose, there are some essential functions that you want them to provide, I would suggest these are as follows:
List management – multiple lists, list segmentation, unsubscribe options
Design – standard templates and the ability to use custom templates
Sign-up forms – options to customise
Split testing options (or A/B Testing)
Adequate reporting – opens, click-through, bounces, subscribes, unsubscribes
Automation – auto–responder series, triggered email options (or transactional email options)
CRM integration options
If you are starting out with Email Marketing you may not instantly see the need for the functionality listed above, but if you want to grow and manage your lists, optimise your email campaigns, and make use of highly effective automated emails, you will need all of these functions.  Reminder, it is better to choose a provider that is able to meet your long-term requirements.
There may also be a temptation to choose a provider that allows you to upload bulk email lists or purchased lists, in my experience these are not the best providers.  For example, MailChimp expressly forbids the upload of purchased lists but this is a clear indication of their integrity and their commitment to reducing spam emails.  
You won't go far wrong with a provider that applies strict rules about the source and pedigree of your subscribers.  If you cast your mind back to the ROI calculator mentioned in my first post, you will recall that the quality of your subscribers will directly affect your open and click-through rates.
The next post will look at Building Your Email Subscriber List. Please watch out for it, or 'Follow' me on LinkedIn by selecting the 'Follow' option when you hover over the 'Connect' button on my profile.
Meantime, if you have found this post interesting, please use the social share buttons on this page to share it with your online community, there's a good chance that others in your community will find it interesting too.  Thank you. 
Previous posts:
Author: Gordon White